2016 issue of Lutheran Theological Review now available
September 14, 2016
No Comment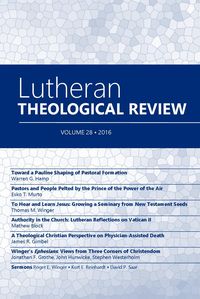 ONLINE – The 2016 issue of Lutheran Theological Review (LTR) has just been released and is available for download online.
Volume 28 is guest edited by Rev. Dr. John Stephenson, and among other work features sermons and essays from the September 2015 conference "Pastoral Perspectives on Paul." The conference recognized the release of Rev. Dr. Thomas Winger's Concordia Commentary on Ephesians.
Sermon: "You, then, my son" (I Cor. 1:18-24)
Roger E. Winger
Toward a Pauline Shaping of Pastoral Formation
Warren G. Hamp
Pastors and People Pelted by the Prince of the Power of the Air
Esko T. Murto
To Hear and Learn Jesus: Growing a Seminary from New Testament Seeds
Thomas M. Winger
Sermon: "Jars of Clay" (II Cor. 4:1-2)
Kurt E. Reinhardt
The journal also includes reviews of Dr. Winger's recent commentary, with perspectives from Lutheran (Jonathan F. Grothe), Roman Catholic (John Hunwicke), and Evangelical (Stephen Westerholm) scholars.
In addition, Volume 28 of LTR includes essays by Mathew Block, Lutheran Church–Canada's communications manager, and Rev. Dr. James R. Gimbel, President of Concordia Lutheran Seminary (CLS) in Edmonton. A sermon series by Rev. David P. Saar is the final feature of the issue.
Authority in the Church: Lutheran Reflections on Vatican II
Mathew Block
A Theological Christian Perspective on Physician-Assisted Death
James R. Gimbel
East District Church Workers' Conference Devotions
David P. Saar
Lutheran Theological Review is a joint publication of LCC's two seminaries. Copies are sent free of charge to every pastor in LCC, and paid subscriptions are also available, in addition to being made available online. Download Volume 28 of Lutheran Theological Review here: www.brocku.ca/concordiaseminary/LTR/LTR_28.pdf.
———————