From the President, ABC District – A prescription for Canada's Christians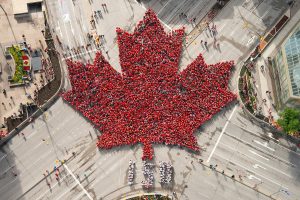 Downtown Winnipeg BIZ
By Glenn Schaeffer
What Canada needs is salt and light. Jesus says to us, "You are the salt of the earth…You are the light of the world" (Matthew 5:13, 14). Salt impedes decay. Salt preserves and seasons. Light is necessary for life. Light revitalizes. Light refreshes.
Dietrich Bonhoeffer said, "Flight into the invisible is a denial of the call. A community of Jesus which seeks to hide itself has ceased to follow Him." St. Paul writes, "We were buried with Jesus through baptism into death in order that, just as Christ was raised from the dead, through the glory of the Father, we too may live a new life" (Romans 6:4). Our living Lord, who gives us new life, enables us to be salt and light!
What does this new life of being salt and light look like? Here are some examples:
Remaining chaste sexually until we have spoken our wedding vows before God and to the person we promise to love and honour until "death do us part" (1 Corinthians 6:18; Ephesians 5:3; Colossians 3:5-17);
Living in a monogamous marriage with our spouse in which the love and servanthood of Christ is manifest in the way we speak and live with our spouse (Ephesians 5:22-33) fostering security and stability in the home for our children;
Valuing the life of all children from conception to death and nurturing their relationship with our heavenly Father (Psalm 139:13-14; Proverbs 22:6; Deuteronomy 6:4-9);
Addressing our bouts with depression or anxiety by seeking assistance from trained professionals and partaking of a healthy, daily dose of God's Word and worship (Matthew 11:28; 1 Peter 5:7);
Fervently loving and forgiving people who have sinned against us (Matthew 5:43-48; 6:12);
Working diligently and faithfully, in collaboration with our fellow employees, in our places of employment (Ephesians 6:5-8; Colossians 3:22-4:1);
Enjoying life's countless blessings recognizing that our Creator and Saviour is the source of a purposeful life and true pleasure (Ecclesiastes 2:24-3:8);
Aging gracefully by enduring the pain and suffering that often accompanies the "ticking of our biological clock" even "rejoicing in our sufferings because we know suffering produces perseverance; perseverance, character; character, hope. And hope does not disappoint us, because God has poured His love into our hearts by the Holy Spirit, whom He has given us" (Romans 5:3-5);
Facing the unpleasant reality of our death (and the deaths of people we love), not with despair, but with hope and joy knowing that "the Spirit of Him who raised Jesus from the dead is living in you, He who raised Jesus from the dead will also give life to your mortal bodies through His Spirit who lives in you" (Romans 8:11).
To be salt and light also means that we admit to losing our own saltiness and to hiding our light under a bowl (Matthew 5:15), but we turn to Jesus, who is the Salt of the earth to restore our saltiness and to Jesus as the Light of world in whose love we are refreshed and by whose forgiveness we are renewed.
Join me in praying, Dear Lord Jesus, give us Your Word that Your Good News may be made known in all the world, beginning in our own homes and neighbourhoods. Give us Your Word so that we may receive it by faith and that Your Word may work and live in us that we may be Your salt and light in Canada. Amen.
Rev. Dr. Glenn Schaeffer is president of the ABC District of Lutheran Church–Canada