A Promised Peace
December 9, 2015
No Comment
by Mathew Block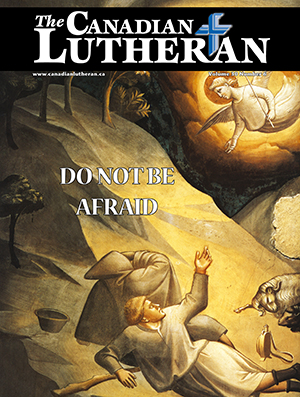 For several weeks leading up to Christmas, the Church commemorates a season called Advent. The word comes from a variant of the Latin word for "to come," and refers to the prophesied coming of Christ. Consequently, in Advent Christians do two things: we remember the waiting of the faithful for the First Coming of the Messiah—the birth of Jesus in Bethlehem two millennia ago. But we do not merely remember a past event. No, we also look forward to Christ's Second Coming at the end of all things.
The Prophet Isaiah describes well the joy the Church will feel on the Day of the Lord's return: "It will be said on that day, 'Behold, this is our God; we have waited for him, that He might save us. This is the Lord; we have waited for Him; let us be glad and rejoice in His salvation'" (25:9). Our waiting will at last give way to glorious fulfillment, as Christ comes to be among His people in power and majesty. We shall see the King of Salvation with our own eyes and we shall rejoice.
In the meantime, however, we wait. And as we wait, we face very real struggles—"trials of various kinds," as St. James puts it (1:2). This world is broken by sin, and until Christ returns to institute a new heaven and new earth, we live with the effects of that sin. Put more poetically, it has been said that "in the midst of life, we are in death."
I do not know what challenges you are facing this Christmas season. Perhaps you are having trouble finding work. Perhaps you are grieving the death of a loved one. Perhaps you are concerned over national and international affairs. God knows there is enough pain in this world to trouble us all.
It was into just such a world that Christ came in His first advent. People struggled to make ends meet. They buried family members. They worried over international conflicts. Into this heartache and pain Christ came proclaiming Good News—news that remains good for us today in the midst of our struggles too, news of "peace on earth and goodwill toward men" (Luke 2:14). God saw the suffering of sinful humankind and sent His Son to bring respite. Jesus came to be our "Prince of Peace," as Isaiah prophesied (9:6), reconciling us to God through His death and resurrection (Romans 5:21)—a promise we shall see fulfilled visibly in the age to come.
Of course, this isn't peace as the world understands it. As St. Paul says, "The peace of God surpasses all understanding" (Philippians 4:7). And Christ Himself explains that the peace He gives is "not as the world gives" (John 14:27). No, this peace isn't what we expect—or maybe even what we want, if we're honest. The peace of Christ doesn't free us from the conflict around us. Nor does it make us immune to the sorrows of this world. Instead, it sustains us in the midst of those sorrows. It gives us strength to carry on when we would most like to give up. For it is through these trials that God Himself forms in us a persevering faith and hope in His Son (James 1:34).
The peace of Christ doesn't free us from the conflict around us. Nor does it make us immune to the sorrows of this world. Instead, it sustains us in the midst of those sorrows.
The days are indeed evil. But another day is coming—the great and awesome Day of the Lord, in which He will bring us the salvation He has already won for us. On that day at last we shall see an end to the suffering this world has long endured. "He will swallow upon this mountain the covering that is cast over all peoples, the veil that is spread over all nations," Isaiah prophesies. "He will swallow up death forever; and the Lord God will wipe away tears from all faces, and the reproach of His people He will take away from all the earth" (25:7-8).
May this promise from the Prince of Peace be your comfort this holiday season. For it was to fulfill this promise that Christ first came into the world two thousand years ago. And He will come again to bring it at last to completion.
"May the peace of God, which passes all understanding, guard your hearts and your minds in Christ Jesus."
– Philippians 4:7
———————
Mathew Block is editor of The Canadian Lutheran and communications manager for Lutheran Church–Canada.