A Reminder on the National Restructuring Survey
February 22, 2016
No Comment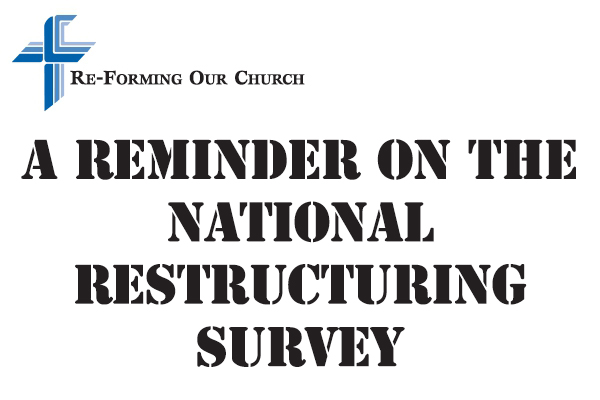 by William Ney
We are now several weeks into the National Restructuring Survey and our consultant, Rev. Dr. Les Stahlke, has received and processed more than 1,000 responses. This is great! Over the rest of the month we hope to receive about 1,000 more responses. I want to encourage all of you to fill out a Survey as soon as possible either online or in paper form (contact your congregation to get a copy of the survey).
We are in a real time crunch in terms of receiving and processing all the Surveys since our Commission on Constitutional Matters and Structure (CCMS) will be meeting March 2-3, only a few days after the February 29th close of the Survey. This meeting will be followed immediately by a presentation on behalf of the CCMS to the Synodical Board of Directors of the results of the Survey on March 4.
The CCMS recognizes that there will be a few statements that some lay people, pastors, or deacons may not be able to answer on the survey with an "agree" or "disagree" because they do not know or understand some of the nuances of our current structure. But that is perfectly all right. If you are not able to answer any Survey statement, please simply mark "No Opinion". Not everyone will know or even have an opinion on everything that is contained in the Survey.
The CCMS wants to thank all of you for taking the time to carefully answer the Survey statements. Your feedback is very important to us in the process of eventually being able to offer a plan to the Synod for restructuring our church body. A majority of Survey respondents to this point have indicated the need for change in how we operate as a Synod. Although we do not know what that new structure will look like, it will be based, not only on the Survey, but also on months of talks with people across Canada in the months leading up to the 2017 Synodical Convention.
The CCMS is determined, with God's help, to offer a new structure that will be in line with God's Holy inerrant Word and our Lutheran Confessions, and also in line with the will of a majority of the members of Lutheran Church–Canada. Therefore, we are bold to request your prayer and your input as we move forward!
———————
Rev. William Ney is Chairman of the Commission on Constitutional Matters and Structure.