A sea of death, a river of life
April 10, 2013
One Comment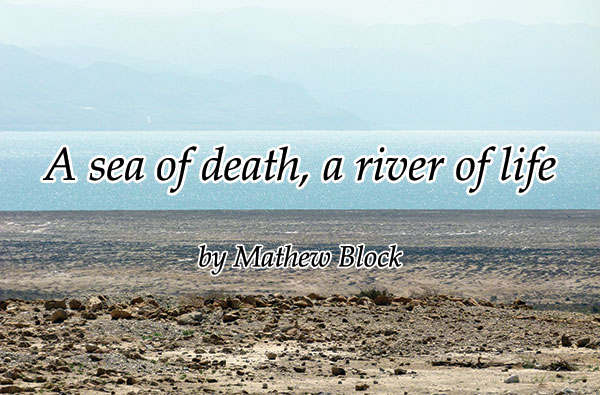 by Mathew Block
I was privileged to visit the Dead Sea while on a recent trip to Israel. This sea is famous for two reasons: one, it's the lowest place on earth at 424 meters (1,391 feet) below sea level; and two, it's one of the saltiest bodies of water on earth. It's little wonder it was known as the Salt Sea in biblical times. The water is 33% salt, making it 8.6 times saltier than the ocean.
That level of salinity makes it a popular tourist destination, as the water is extremely buoyant. Everyone can float in the Dead Sea. In fact, as I discovered, you can't not float: even if you stand straight up in the water, your head stays comfortably above the surface.
The salinity has another effect on the water: it makes it inhospitable for plants and animals to live in. In fact, other than small bacterial life, nothing can live in the water. That's why people today call it the Dead Sea.
Ezekiel once had a vision concerning this sea. At the time, the Israelites were in exile, the Temple was destroyed, and things looked bleak. But God promised Ezekiel that He would build a new and glorious Temple. From its doors would issue forth a river, a river which would flow down to the Dead Sea and make it pure. "When the water flows into the sea," Ezekiel writes, "the water will become fresh" (47:8 ESV).  Zechariah made a similar prophecy, speaking of the day "living water" would flow out to this sea from Jerusalem (14:8).
When the water flows into the sea, the water will become fresh.
These prophecies predict the new covenant in Christ: He tells us He gives "living waters" to those who thirst (John 4:7). This is a water which takes the spiritually dead and brings them to life—the sort of thing we see in baptism. For baptism too is water which brings the dead to life. "Do you not know that all of us who have been baptized into Christ were baptized into his death?" Paul asks. "We were therefore buried with him by baptism into death, in order that, just as Christ was raised from the dead by the glory of the Father, we too might walk in newness of life" (Romans 6:3-4). This water finds what is dead and makes it alive!
When we drink of the water Christ gives us—when faith in His Gospel takes hold of us—He gives us His Holy Spirit. He becomes in us "a spring of water welling up to eternal life" (John 4:14). As the water from the Temple purifies the Dead Sea in Ezekiel's vision, so too the righteousness of Christ overwhelms our own decay. He makes us pure. His blood cleanses us from all sin (1 John 1:9) and His life swallows up death (Isaiah 25:8). Indeed, wherever Christ goes, life must follow: "Everything will live where the river goes" (Ezekiel 47:9).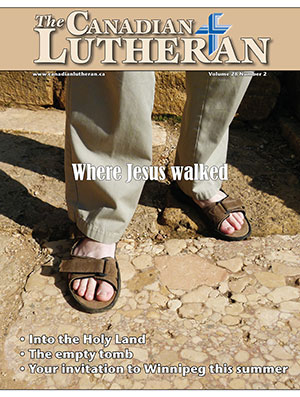 In this issue of The Canadian Lutheran, we reflect anew on the life of Christ. I mean that in two ways: first, we talk about His literal earthly life. We visit the Holy Land and see the place where He was born. Where He lived and taught. Where He died. Where He rose again from the dead.
That brings us to the second focus of this issue: the life Christ gives to us. We reflect anew on the wonder of the resurrection, and the new life it promises us—both in the present and for all eternity.  His living water wells up inside us. Though we were dead, He brings us back to life!
This is Good News—the best news, in fact! And as Christ's living water fills us, we are transformed. We are no longer "dead seas," but instead carry living water to others. Jesus promises, "Whoever believes in me…. out of his heart will flow rivers of living water." Through this outflowing, the Holy Spirit uses us to share the Good News with those who haven't yet heard it: with friends, family, and neighbours.
You have an excellent opportunity  this summer to learn to share your faith with others. In Winnipeg, we're holding "Reach Out Canada," a national outreach conference for LCC members. At the same time, we're hosting the national youth gathering. Don't miss them!
——————–
Mathew Block is editor of The Canadian Lutheran.