A Year of Martyrs: Praying for the Persecuted Church
September 24, 2013
2 Comments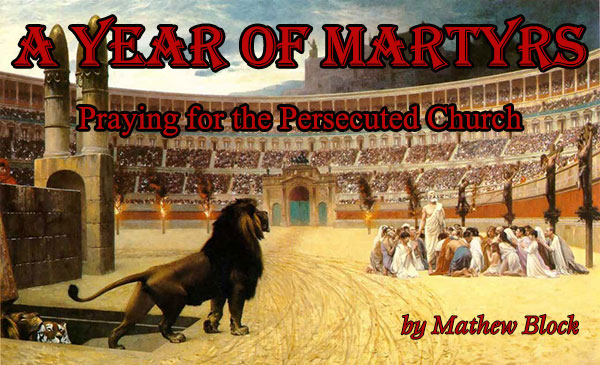 by Mathew Block
2013 has been a deadly year for Christians across the world.
Sunday, September 22 marked the deadliest recorded attack ever on Christians in Pakistan, when two suicide bombers stuck All Saints Anglican Church in Peshawar. At least 85 people are dead, with more than 140 others wounded in the attack.
At the same time a continent away, an extremist Muslim group attacked the Westgate Mall in Nairobi, Kenya. The perpetrators reportedly allowed Muslims to escape while targeting members of other faiths—the vast majority of which would be Christian, as Christians make up 80% of Kenya's population At least 67 people have been killed and 175 injured, with numerous others still missing.
These are certainly not the first instances of Christian persecution in Pakistan and Kenya. Christians have frequently been charged under Pakistan's infamous "blasphemy laws," including earlier this year when a Christian was alleged to have blasphemed Islam. More than 100 houses owned by Christians were burned down in the ensuing outrage. And in Kenya, the terrorist group al-Shabaab—the same group responsible for the current attack on the Westgate Mall in Nairobi—has previously attacked Christian churches directly; on one Sunday in 2012, al-Shabbab killed 17 people when they attacked two churches in Garissa with grenades and guns.
The persecution of Christians is by no means something restricted to Pakistan and Kenya, either. In Egypt, Christians are still reeling from August when scores of churches were attacked. At least 32 churches (and their associated buildings) were completely robbed, looted, and destroyed by fire. An additional 19 were attacked with stones, Molotov Cocktails, and gunfire. A number of other Christian schools and institutions were completely destroyed in the attacks, as were the homes and businesses of multiple Christians. The violence was perpetrated by supporters of the Muslim Brotherhood who were angry at the ouster of former Egyptian President Mohammed Morsi.
In Nigeria, July saw two churches in Kano bombed, with at least 45 people killed in the attacks. A day earlier, reports state, members of Boko Haram—the same group believed to be responsible for the bombings—burned 16 Christians at a church in Biu.
War-torn Syria has also seen Christians targeted by extremist groups. On June 23, a Syrian priest was shot to death in his church in the village of Ghassaniyeh. And in April, two Archbishops—one from the Syriac Orthodox Church and one from the Greek Orthodox Church—were kidnapped; no group has claimed responsibility and their fates remain unclear.
These are but a few of the most dramatic violent attacks on Christians in recent months. But the persecution of Christians around the world is not restricted to these events; hundreds of thousands of believers are persecuted for their faith in Christ every year.
Hundreds of thousands of believers are persecuted for their faith in Christ every year.
Reflecting on these sorrows, President Robert Bugbee of Lutheran Church-Canada (LCC) is encouraging the people of Lutheran Church–Canada to remember persecuted Christians, both in their private prayers and in the public services of the church. "One structured way is for congregations to mark the International Day of Prayer for the Persecuted Church (IDOP)," he said, "either on November 10, 2013 or on another day of their choosing."
"This past summer in Lithuania," he continued, "the International Lutheran Council hosted a conference of seminary professors, which I attended. The theme for the gathering was 'Suffering and Martyrdom as Marks of the Church,' and it was riveting to listen to the reflections of those who had lived through the Soviet period, since the meetings were taking place in the former USSR. Christians from 'comfortable' places like Canada have much to learn from what others have endured. And we must not forget our brothers and sisters around the world who are still undergoing torment for no other reason than that they confess the saving Name of Jesus."
IDOP-Canada's website notes that "the traditional church calendar marks All Saints Day and All Souls Day in the month of November." "It is an appropriate time," it continues, "for the modern church to also pray for persecuted believers world-wide."
"Today around the world, over 200 million are suffering for their faith in Jesus Christ," IDOP-Canada's website notes. "Believers all around the world face violence, imprisonment, and even death because of their faith in Christ. More than ever, Christians who suffer need our prayers."
For more information on the International Day of Prayer, visit IDOP Canada's website here as well as its international counterpart here.
———————
Mathew Block is editor of The Canadian Lutheran and Communications Manager for Lutheran Church–Canada.