After Covenant Award nominations, LCC artists plan for the future
December 3, 2014
One Comment
CANADA – Two recording artists from Lutheran Church–Canada were among the nominees for this year's 2014 Covenant Awards, held November 13 in Vancouver. And while The CREW and Jennifer Jade Kerr didn't take home the prizes in the end, they were both honoured just to be nominated.
"It was a thrill to attend this year's Gospel Music Association of Canada event and the 2014 Covenant Awards," said Kerr. ""Although I didn't take home an award, I was struck again by a sense of gratitude. I get to do something that I love—sharing the love and inspiration of God through music. Being recognized for that is a strange and wonderful blessing. It's not why I do it, but it is a sincere encouragement."
This was Kerr's third nomination over the past three years. "I love being part of a community of creative and generous people who use their gifts to further the Kingdom of God," she continued. "There are so many artists doing such incredible work, and it is an honour to sit at the same table. I'm a pretty happy camper."
The CREW's Gary Brucker expressed similar sentiments. "It was an honour to have been nominated," he said, noting this was The CREW's second Covenant Award Nomination. He also noted how good it was to spend time with other Christian musicians. "It was fun to see so much talent showcased in one event. I was glad to see Brian Doerksen receive the lifetime achievement award."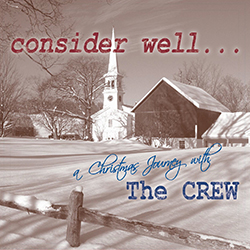 With the Covenant Awards now passed, both the CREW and Jennifer Jade Kerr are setting their sights on other activities. The CREW is currently promoting its Covenant Award nominated Christmas album "Consider Well… A Christmas Journey with The CREW." Their website features resources (including powerpoint and images/info for bulletin inserts) for congregations that wish to promote the album, which costs $20. They're also offering to make the album available to congregations at a discounted rate to use as a fundraiser (contact The CREW for details through their website at www.thecrewguys.com).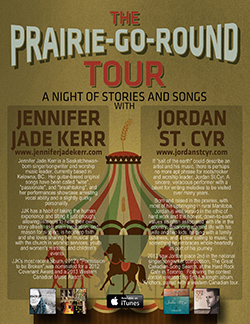 Meanwhile, Jennifer Jade Kerr is preparing for a new concert tour. This past spring, Kerr left her position as Youth Director at First Lutheran Church in Kelowna for full-time music ministry. She travelled the prairies with fellow artists Jordan St. Cyr this fall on a three-week "Prairie-Go-Round" tour. Kerr is currently planning an Ontario tour with Halifax-based artist Chelsea Amber for March 2015, and is booking other Canadian dates for the spring and summer. If you are interested in having her contribute to your church event or participate in the artistic landscape of your community, contact her through her website at www.jenniferjadekerr.com.
For more information on Jennifer Jade Kerr, The CREW, and their recent Covenant Award nominations, see this earlier report in The Canadian Lutheran.
———————