Ashamed of the Gospel
by Mathew Block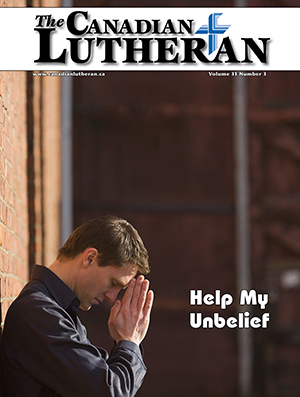 It's easy to become discouraged these days as Christians living in Canada. The legalization of euthanasia, attempts to ban graduates of a certain Christian university from entering the legal profession, and ever increasing hostility to public expressions of faith are all evidence of rampant secularization. Membership in Christian denominations is down across the spectrum, including in Lutheran Church–Canada, and those attending church services regularly are the exception, not the norm, these days.
You can start to feel pretty small in a world like that. You can be afraid to voice your opinions when hot button topics come up for fear of being labeled strange, old-fashioned, or even a bigot. As a result, maybe we speak a little less openly about our faith. We don't bother to invite friends to church. We let opportunities to share Christ with our neighbours pass by. Slowly, it becomes easier and easier to simply keep silent and avoid controversy altogether.
The thing we forget is that, by keeping silent, we actually help to accelerate the secularization of our society. It basically means admitting that the majority opinion is right—that religion is something that should be restricted to private life, kept locked away and hidden from the public sphere. As a result, more and more people will go through life never exposed to the Good News of Jesus Christ—never knowing the love of God for sinful humanity.
St. Paul knew what it was like to be up against a crowd and to face real suffering for preaching the Gospel. "I have been in prison frequently, been flogged several times, and been exposed to death again and again," he says. "Five times I received at the hands of the Jews the forty lashes less one. Three times I was beaten with rods. Once I was stoned…. I was in danger from my own people, danger from Gentiles, danger in the city, danger in the wilderness, danger at sea, danger from false brothers" (2 Corinthians 11:23-26). He would later suffer additional imprisonments and finally execution by the Roman government.
This was a man who certainly knew societal pressure to keep silent about Christ. And yet what does he say in an earlier epistle? "I am not ashamed of the Gospel, for it is the power of God for salvation to everyone who believes, to the Jew first and also the Greek" (Romans 1:16). What faith! This is a man facing persecution from both his own people and Gentiles, but rather than hating his oppressors he desires their salvation! The Gospel is so important that he is willing to suffer all, in order that those who persecute him might also know Christ.
You may think that kind of resolve and fortitude is beyond you. But it's not. For just as it is the power of God at work in the Gospel that saves, so too it is the power of God that enables you to proclaim His Gospel in tough times. Yes, we are weak. But God is strong. Like St. Paul, we can say, "I will boast all the more gladly of my weaknesses, so that the power of Christ may rest upon me. For the sake of Christ, then, I am content with weaknesses, insults, hardships, persecutions, and calamities. For when I am weak, then I am strong" (2 Corinthians 11:9-10).
Just as it is the power of God at work in the Gospel that saves, so too it is the power of God that enables you to proclaim His Gospel in tough times. Yes, we are weak. But God is strong.
The Gospel is indeed the power of God for the salvation of all who believe—including you and me, weak Christians too often ashamed of the Gospel that saves us. God give us courage and resolve to tell the message of Christ to those around us, whatever resistance our culture might throw at us. Because they, like us, need Jesus. They need a Saviour.
So yes, you may be small and weak. And yes, the world may well throw trouble your way. But take heart: Christ has overcome the world! (John 16:33). He will give you the strength you need to stand firm in trying times and to point even your enemies back to Christ.
If God Himself be for me,
I may  a host defy;
For when I pray, before me
My foes, confounded, fly.
If Christ, my head and master, Befriend me from above,
What foe or what disaster
Can drive me from His love?
– Paul Gerhardt (LSB 724)
———————
Mathew Block is editor of The Canadian Lutheran and communications manager for Lutheran Church–Canada.