Attack on LCC's Mission Centre in Nicaragua
October 21, 2013
No Comment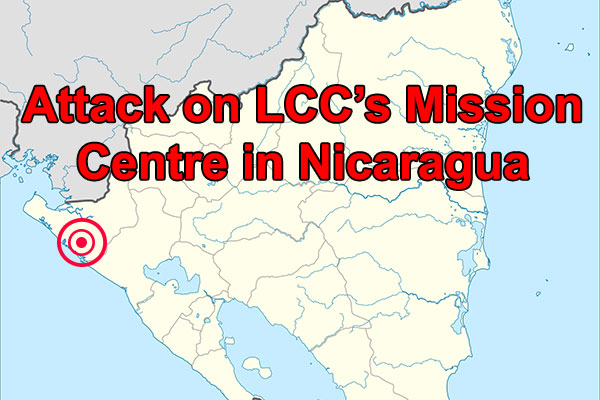 by Mathew Block
NICARAGUA – On October 11 at 7:00 p.m., Lutheran Church–Canada's (LCC) Mission Centre in Chinandega, Nicaragua was attacked. Details emerged slowly over the past week, as regular communications were interrupted following the incident.
At the time of the attack, Rev. Rufino Quintero was staying in the centre. Four assailants entered the building and, after a short scuffle, the attackers subdued Rev. Quintero. He was placed in in the washroom and warned that he would be killed if he came out. Rev. Quintero is a pastor in the Iglesia Luterana Sínodo de Nicaragua, LCC's partner church in the region. As LCC has been considering calling Rev. Quintero to serve as a missionary pastor in Honduras, he had been staying at the Mission Centre in Chinandega to complete related paperwork.
The thieves are known to have escaped with two laptops, though other items may yet be discovered to be missing. It is also possible the thieves were looking to intercept church-worker salary payments, though no such money is stored onsite.
Because a police investigation is ongoing, LCC cannot reveal all details regarding the attack.
"We thank God that Rev. Quintero was not seriously injured," said Rev. Dr. Leonardo Neitzel, LCC's Executive for Missions and Social Ministry. "I ask all LCC members to keep the Nicaraguan church in prayer. May God strengthen the believers there to continue in their faithful proclamation of the Gospel of Jesus Christ, and may He protect them from all injury as they do so."
Understandably, church-workers and local people in Nicaragua have been frightened by the assault on the Mission Centre. Dr. Neitzel encouraged prayers for their well-being: "The event has scared many," he said. "We need to pray that God will help them overcome the emotional trauma the event has caused."
In light of the recent attack, Dr. Neitzel further warned LCC members to be cautious when engaged in international mission work, whether short-term or long-term. "It is important that our people understand safety issues when visiting other nations," he explained. "The security we take for granted in Canada is not always the same in other places." In 2012, three different short-term mission teams from LCC and The Lutheran Church–Church Missouri Synod were victims of theft while in Nicaragua, with one team losing passports.
"Such events do not mean LCC members should stop going on mission trips internationally—the work our people are doing is vital and blessing many!—but they do remind us of the need to exercise caution when we do so," Dr. Neitzel noted. "Wherever we travel, be it to Nicaragua or anywhere else, we need to make safety a priority."
———————