Awards for LCC publications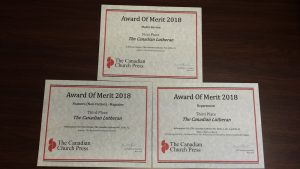 HAMILTON, Ont. — At its annual Awards Banquet, Friday, May 4, the Canadian Church Press (CCP) presented three Awards of Merit to The Canadian Lutheran, the magazine of Lutheran Church–Canada.
A movie review of "Silence" written by Rev. Ted Giese received a first-place award. In his remarks on the article, the judge called it "An impressive review, that would be fully acceptable in any secular, major, publication."
A series of three articles on the Reformation 500 theme authored by Mathew Block , Rev. Dr. Edward Kettner, and Kelly Klages was awarded third place in the Department category. The judge's remarks on the theme stated "The ambitious scope of celebrating and commemorating the Reformation deserves credit here. It is not a typical Publication Department as might usually be seen in this category, but it does merit consideration for its consolidated common theme."
Rev. Dr. James Gimbel's Reformation anniversary article "Heart and Sola" also received a third-place award in the Features: Non-fiction (magazine) category. The judges called it "an original take on an anniversary piece."
On hand to receive LCC's awards was interim editor of The Canadian Lutheran and former CCP president Ian Adnams. "These awards are important to publications like The Canadian Lutheran," he noted. "The process provides an objective look at the magazine by industry professionals outside the organization." Each entry receives a written analysis that includes suggestions for improvement.
Lutheran Women's Missionary League-Canada's publication Tapestry received a third place award in the Personal Experience category for a story entitled "An Intervention" by Amy Bracebridge.
Canadian Church Press is a 60-year-old association of more than 50 church-related magazines, newspapers, newsletters, and online publications. It meets annually to provide professional development, encourage networking, and celebrate excellence in publishing through its awards program.