Big Changes for the BC Mission Boat Society
September 9, 2016
No Comment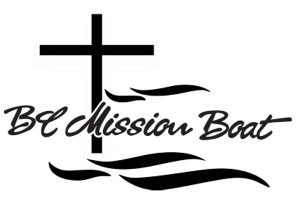 BRITISH COLUMBIA – The BC Mission Boat Society (BCMBS) has announced that their Executive Director, Marcus Huff, has accepted a call to serve a parish in Michigan, and that they are using this transitional time to evaluate the mission agency's current operation structure.
"Marcus isn't changing what he is 'fishing for,' just where, as he returns to his home state," the BCMBS Board of Directors explain in a release, alluding to Jesus' analogy of fishing for men. "All on the Board are very happy for Marcus, as the call is a great fit with his gifts and experiences." The release goes on to note that Huff will beginning his new call in October of this year.
As the BCMBS wishes Huff well in his new position, it is also working on a succession plan. The Board of Directors has agreed in principle to appoint Rhonda Kelman as Interim Director for the agency, with details of the position to be worked out in the days ahead. Kelman has significant history with the BCMBS, having served in the agency's office, on its Board of Directors, and as an outreach worker. Kelman has offered her time in the month of September to work with Huff to ensure a smooth transition.
Kelman will direct the operations of the BCMBS in the short-term, but the Board of Directors is also looking towards long-term changes. "We have been looking at the increasing requests from communities for Christian people to come, and wondering if we needed to find a different way to respond," they note in their release. "At our recent retreat we decided to take this opportunity by putting more emphasis on volunteer led teams, and take some of the leadership tasks off our Director." Consequently, the Board is planning to define a new role in the coming months to replace the Executive Director, tentatively calling the new position Program Director. The BCMBS will be releasing further information on the role, including application opportunities, in the future.
While some changes in the future, the BC Mission Boat Society is also clear on what isn't changing. "What are we fishing for?" the release asks. "That hasn't changed one bit…. We are fishing for people to know God's amazing love…. And we are fishing for you to be part of this. Pray for God to guide all these changes. Write or speak to us with your questions or words of encouragement."
For further details on the changes underway at the BC Mission Boat Society, read their full news release here. You can visit the BC Mission Boat Society's website at www.bcmissionboat.org for additional information on their activities and to find out how you can support their work.
The BC Mission Boat Society is a listed service organization of Lutheran Church–Canada dedicated to sharing the Good News of Jesus Christ with people in isolated communities along the coast of British Columbia.
———————