Canadians can apply for financial support at US Concordia
January 8, 2018
No Comment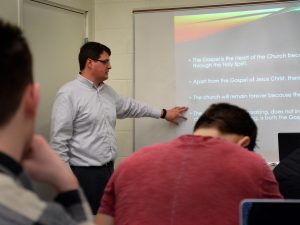 Ann Arbor, MI – Lutheran students from Canada heading to university or college are eligible to apply for two student assistance programs at Concordia University, Ann Arbor according to Rev. Charles Schulz, Pre-seminary Director at the LCMS institution.
One is the Luther Promise. It awards US$16,000, $18,000 or $20,000 per year for four years for all Lutheran students interested in any area of study, with amounts depending on the student's academic qualifications. More details are available at: https://applycuaa.cuw.edu/Ellucian.ERecruiting.Web.External/pages/landingpages/lutherpromise.aspx?id=5e8a883a-ce81-e611-8c79-0050568f7595
The other financial incentive is the Luther Scholar Guarantee, specifically for the most promising pre-seminary students. It is fixed at $20,000 per year and has somewhat lower academic requirements but requires an interview and a letter of recommendation. The details and application are here:  https://www.cuaa.edu/programs/preseminary/lutherscholar.html
Unlike the Luther Promise, which is automatic for all Lutherans, the Luther Scholar Guarantee requires application and awarding. There are only a limited number available each year. The application deadline for Feb. 1.
"Undoubtedly, a Christian education provides the best preparation for Lutheran laity and church workers to enter into their careers as service to their Lord," notes Rev. Schulz. "The Christian worldview integrated with the skills of a specific discipline becomes a powerful combination of head and heart, body and spirit for holy work for the neighbour."
The director believes that with the financial assistance from the university a Concordia education is well within reach. "Total tuition, room, board and fees is estimated at US$39,000 for 2018-19," he explained. "With these top awards, that cost is brought down to US$19,000. Additional outside funding lowers the cost even more."
"Nothing beats the value of a Christ-centered education in a Christian community," Rev. Schulz observed.