CLS calls for award nominations
October 8, 2013
No Comment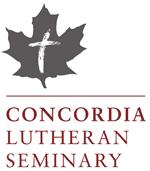 EDMONTON – The faculty and Board of Regents of Concordia Lutheran Seminary (Edmonton) invite individuals, congregations, and Boards of Lutheran Church-Canada to submit the names of persons to be considered for one of the seminary's honorary degrees and awards.
The purpose of these honorary degrees and awards is to acknowledge outstanding service to the church, the seminary, and the community. Available degrees are: Doctor of Laws (LL.D), Doctor of Letters (Litt.D.), Doctor of Divinity (D.D.). Available awards are: Faith in Life, Friend of the Seminary, Doulos Dia Iesoun. A description of the awards and degrees and the forms required for each are available at www.concordiasem.ab.ca. Desirable qualifications for each position are listed on each nomination form.
Completed forms must be received by January 1, 2014, for consideration. Degrees and awards will be presented at the seminary's Sacred Convocation on May 30, 2014.
Contact: Prof. Jonathan Kraemer, faculty secretary
Concordia Lutheran Seminary
7040 Ada Blvd.
Edmonton, AB  T5B 4E3
Fax: (780) 479-3067
Email: jkraemer@concordiasem.ab.ca
———————