CLS continues search for president
March 11, 2013
No Comment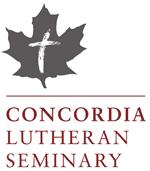 EDMONTON – Concordia Lutheran Seminary (CLS) is continuing the search for a new president, after Rev. Dr. Carl Fickensher declined the call last week.
Dr. Fickensher explained in a letter that, while he was "deeply honored" by the seminary's call, he regretted he was unable to accept it. "I could return the call only because I believe God is giving me avenues to serve Him in Fort Wayne that use His gifts to me, particularly to teach men to preach, in a one-of-a-kind way," he wrote.
"Still," he continued, "I have total confidence that God's kingdom in Edmonton and Canada will go forward exactly as He perfectly envisions. It's very obvious to me that CLS is in a position to flourish with its next president."
In an email informing faculty, staff, and electors of Dr. Fickenscher's decision, Board of Regents Chairman Rev. Mark Dressler expressed the following sentiments: "We are no doubt disappointed that God has led him to decline this call, but we take comfort that in the Lord's good time the right man for the office will be revealed."
"In the meantime," Rev. Dressler wrote, "we keep the seminary, and all who work so hard within its walls, in our prayers."
The board and electors are currently considering next steps in the search for a president, with a conference call on the subject scheduled for March 19.
——————–