CLS seeks Partners for Give25 program
January 24, 2017
No Comment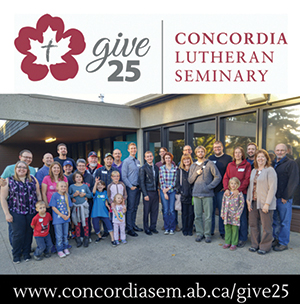 EDMONTON – Every year, 55% of Concordia Lutheran Seminary's operating budget comes from donations. In an effort to make it easier for donors to make small recurring gifts, the seminary has launched the give25 campaign.
Through the give25 campaign, CLS is seeking $25 a month from 1,000 donors. The seminary is looking for 10 donors from each of 100 Lutheran Church–Canada (LCC) congregations to commit in 2017.
"I'm so grateful to be a new partner to Concordia Lutheran Seminary in its 'Give 25' effort," notes LCC President Robert Bugbee. "The Lord has brought so much blessing to our church through this treasured place, and I hope many of you will get involved—as I have—in this very manageable, ongoing way!"
The seminary invites you to prayerfully consider becoming a partner with them in this special campaign. To sign up, visit www.concordiasem.ab.ca/give25.
———————