CLS to hold "Saturday @ the Sem"
March 26, 2015
No Comment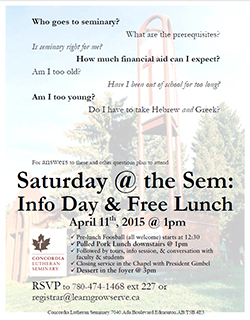 EDMONTON – Concordia Lutheran Seminary will hold Saturday @ the Sem on April 11, beginning at 1:00 p.m..
"Who goes to seminary? What are the prerequisites? Is seminary right for me? How much financial aid can I expect? Am I too old? Have I been out of school for too long? Am I too young? Do I have to take Hebrew and Greek?"
Saturday @ the Sem plans to help potential students answer these questions. The day begins with pre-lunch foosball at 12:30 p.m., followed by a pulled pork lunch downstairs at 1:00 p.m. Participants will take part in tours, an info session, and conversation with faculty and students. A closing service will take place in the chapel with President James Gimbel, and dessert will be served in the foyer at 3:00 p.m.
The seminary asks interested participants to RSVP by phone (780) 474-1468 ext 227 or by email at registrar@learngrowserve.ca.
———————