CLWR Sunday 2016
November 3, 2016
No Comment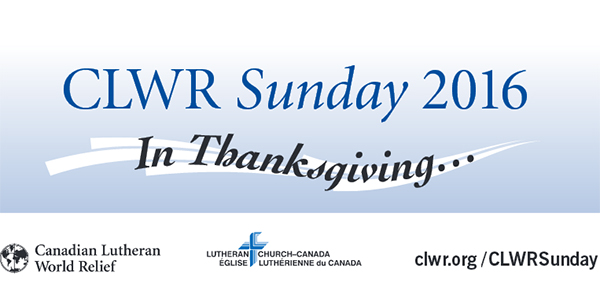 CANADA – Hosting a CLWR Sunday is an excellent opportunity for Lutheran Church–Canada (LCC) congregations to celebrate the international humanitarian work undertaken through Canadian Lutheran World Relief on behalf of Canadian Lutherans.
The suggested theme for 2016 observances is "In Thanksgiving…" To make service planning easier, CLWR has developed a resource packet, including Scripture readings, hymn selections, and prayer. This year's worship resources for Lutheran Church–Canada congregations were prepared by Rev. Tom Kruesel.
In addition to worship materials, the resource package includes stories about aid and development work that Canadian Lutherans are supporting, and suggestions for activities and further resources for congregations.
Download the resource package here.
———————