CLWR to host Christmas Reception, reports successful Sweaters for Syria campaign
November 14, 2013
No Comment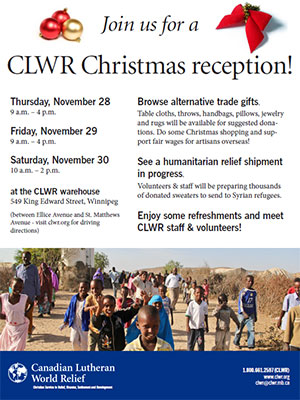 WINNIPEG – Canadian Lutheran World Relief (CLWR) will be holding a Christmas reception at its Winnipeg Warehouse (549 King Edward Street) November 28-November 30. All supporters are invited this event to enjoy refreshments and meet CLWR staff and volunteers. Stop by Thursday and Friday between 9:00 a.m. and 4:00 p.m. On Saturday, the Reception will run from 10 a.m. to 2:00 p.m.
Attendees will have the opportunity to do a little Christmas shopping as well, as alternative trade gifts (including table cloths, throws, handbags, pillows, jewelry, and rugs) will be available for suggested donations. Attendees will see a humanitarian relief shipment in progress, as CLWR prepares to ship sweaters to Jordan, following a very successful sweater-drive in recent weeks which saw congregations across Canada gather warm clothing for Syrian refugees.
Because of the astounding response to its sweater-drive, CLWR is also seeking individuals and groups interested in volunteering throughout November and December to help ensure these items reach those most in need. "We are presently very busy at our warehouse sorting and packaging goods that have arrived from across the country," said Patrick Steward, CLWR's We Care Program Coordinator. "If you are interested  in lending a few hours to help out, please let us know. We'd be very happy to have you." Those interested in volunteering can contact Patrick at patrick@clwr.mb.ca or 1-800-661-2597.
Congregations wishing to advertise the Christmas Reception can find bulletin blurbs and posters at Canadian Lutheran World Relief's website. CLWR is also accepting baking donations for the event; contact CLWR for more information.
———————