CLWR's Gifts from the Heart: Gift Ideas that Change Lives
November 4, 2013
One Comment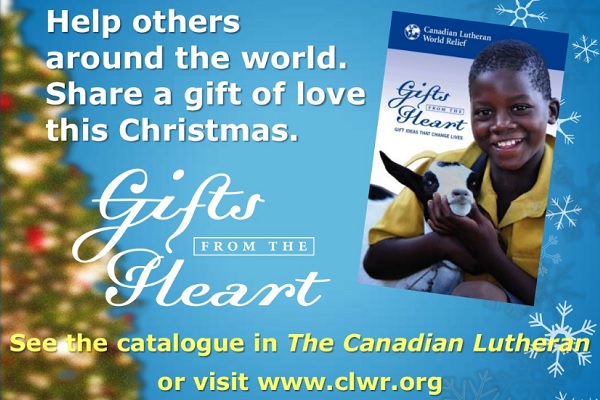 CANADA – As stores begin to advertise for Christmas shopping, Canadian Lutheran World Relief (CLWR) is encouraging Lutheran Church–Canada (LCC) members to remember the less fortunate this holiday season. To that end, CLWR has released its annual Gifts from the Heart catalogue (included in the September/October issue of The Canadian Lutheran). People can also order from the catalogue online.
"Purchasing Gifts from the Heart is a tangible way for you to share God's love with the world," the introduction reads. "Gifts are an ideal way to honour family members and friends on special occasions like Christmas, Easter, confirmations, birthdays, and anniversaries. Your gift may also serve as a way of introducing them to the life-giving work carried out by CLWR in partnership with Lutheran Church–Canada."
Gifts in this year's catalogue fall into a number of categories: agricultural and livelihood (fishnets, seed potatoes, chickens, garden tools, goats, granaries, oxen and ploughs, and training for farmers); health (mosquito nets, hygiene kits, medical kits, health care for children); teaching (training, tools and texts, school supplies); clean water (community water systems, water storage and diversions, irrigation systems, treadle pumps); and more.
The catalogue also includes a number of Lutheran Church–Canada focused mission projects, including Christmas gifts for orphans in Ukraine; Christmas hampers for Nicaraguan church workers; health care in Nicaragua; meals for children in Central America; and children's education in Nicaragua.
If you are ordering an item as a gift for family members or friends, CLWR also provides gift cards upon request. These cards include a short message about CLWR and its work, as well as a space for you to add a personal note to the person or persons you are honouring. Pictures of each gift, and a description, re included and can be insert in the gift cards. There is no charge for these gift cards and they are sent by regular mail. CLWR encourages you to order by December 2 in order to receive the gift cards in advance of Christmas.
To order online, click here (payment by credit card only). To order by phone, call 1-800-661-2597 (payment by credit card only). You can also order by mail (payment by cheque or credit card); simply use the order form in the Gifts from the Heart catalogue that appears in the September/October issue of The Canadian Lutheran. Charitable receipts for tax purposes will be issued for all gift purchases.
For more information on Gifts from the Heart, and for resources to help in sharing the project with your congregation, visit CLWR's website here.
Motivated by Christ's love, CLWR and LCC work in effective partnership to improve day-to-day life and provide opportunity for long-term sustainability in communities around the globe. Within Canada, CLWR assists Lutheran communities engaged in refugee resettlement.
———————