Daily devotions for Lent available
February 2, 2018
No Comment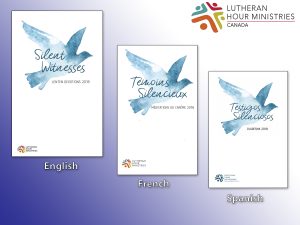 KITCHENER, Ont. – During Lent thoughts are directed to the life, suffering, and death of the Saviour. It's a time for devout reflection on what Jesus Christ endured on our behalf and especially what He won for us: salvation through His triumphant resurrection over death.
Silent Witnesses, Lutheran Hour Ministries' free Lenten devotions for 2018, looks at the significance found in some of the ordinary things that surface in the Gospel narratives of Jesus—things like rope (nets); clay (pots); water (the pool of Bethesda); silver (drachma coins); oil (ointment); a donkey; a sponge; a placard (inscription above the Saviour's head); embroidered cloth (temple curtain); and more that figure into the story of Jesus' life as revealing details. In the mute character of these simple and commonplace things, readers discover God adding wonderful brushstrokes to the Saviour's message of love and reconciliation.
While more than 100 congregations across Canada ordered and received printed copies, Silent Witnesses will also be available to read online, as daily posts on LHM Canada's Facebook page, and to hear as a podcast. These devotions can also be received as an e-mail subscription throughout the Lenten season, beginning February 14. The downloadable version can be accessed online now. Audio availability begins Ash Wednesday, February 14, 2018. For all the details, click here.
The 2018 Lenten Devotions from Lutheran Hour Ministries are also available in French and Spanish. You can read or download them at: www.lll.ca/booklets/french OR http://lll.ca/product/2018-lenten-devotions-english-or-spanish/