Download 2014 Advent Devotions (in English and French)
November 17, 2014
No Comment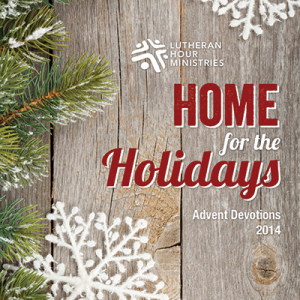 ONLINE – Every year Lutheran Hour Ministries (LHM) produces a series of devotions for the Advent season. This year's release—entitled Home for the Holidays—is now available for download, as is a French translation of the same.
According to LHM promotional material, Home for the Holidays "reflects on the various 'homes' God provides through His Word, the Sacraments, and our church family." It continues: "Drawing on several familiar and family-oriented events of the Christmas season (deciding on a tree, decorating the house, setting up the Nativity display, baking Christmas cookies, etc.), the devotions balance treasured holiday memories with the reality that not everyone feels at home with the holidays."
"When life's hassles, relationship burnout, and financial stress may leave us out in the cold," the promo explains, "there is solace and warmth when we visit the 'home' we have at church."
You can access the English devotional series in three different ways online. You can get it in a print-ready format (also usable on e-readers); you can receive the devotional daily via email; or you can download mp3 podcasts of the devotions.
If you prefer to get the devotional in a hard-copy format, check with your local Lutheran Church–Canada congregation to see if they have copies available. Alternately, you can contact the Lutheran Laymen's League of Canada for further information on ordering the devotional directly.
The devotional is also available in French as a pdf download. Download Noël en Famille: Méditations de l'Avent  and other French resources from the Lutheran Laymen's League of Canada here.
———————