Dual focus for Lenten devotions
February 25, 2011
No Comment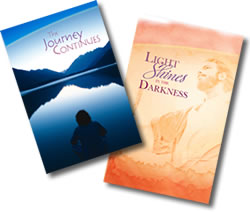 As Lent approaches, Lutheran Hour Ministries is offering two devotional booklets, one for those observing Lent and another written for people for whom the season is not on their radar.
The Light Shines in the Darkness examines the Gospel of John's narrative of the life of Christ. Cast in a traditional style that is both accessible and probing, The Light Shines in the Darkness reveals Jesus' battle against the darkness of unbelief, prejudice, and blind, murderous hatred as He fought for us all the way to the cross and back from the empty tomb.
The Journey Continues picks up on the life of Jordan, featured in LHM's Advent devotions. Jordan's sister, Kate, and his skeptical best friend Jack are shown through a video blog (vlog) (www.overthestatic.com ). This online format captures an inside peek at the lives, opinions and perspectives of those closest to Jordan. Each week Kate and Jack offer an entry into their video journal, which will run through the week after Easter.
Both are excellent congregational tools for members' personal meditations and for a church's outreach to its surrounding community. A simple blurb in a congregation's bulletin or newsletter can provide all the information needed to point people online. For church websites, an Internet link can take visitors directly to the LHM web page to find the devotions. In the case of the vlog, an easily attached Youtube link can connect a visitor to the video itself.
The Light Shines in the Darkness is available at www.lentendevotions.net as a daily readable, downloadable, printable, and customizable offering. An audio version will be available beginning March 9. The Light Shines in the Darkness is also available as an e-mail subscription.
The Journey Continues is at at www.lentendevotions.net, where it can be read, printed, downloaded, and customized. As with last year's Advent meditations, Over The Static, LHM's Lenten series The Journey Continues can also be accessed as a video blog (vlog) by going to www.overthestatic.com. The vlog version will also be available on YouTube.