Enrolment open for 2017 Pastor's Sabbatical Week
November 18, 2016
No Comment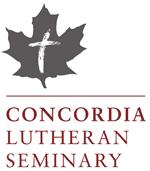 EDMONTON – Concordia Lutheran Seminary has opened up enrolment for its 2017 Pastor's Sabbatical Week, which will take place June 6-8, 2017 in Edmonton.
The event will feature three speakers: Rev. Dr. Charles P. Arand, professor of systematic theology at Concordia Seminary (St. Louis, Missouri), will provide a Lutheran theological perspective on handling science and evolution; Rev. Dr. John Nunes, a Canadian native and president of Concordia College (Bronxville, New York), will address the subject of preaching for today; and Dr. Colleen Hammermaster, an Edmonton psychologist, will discuss psychological insights for pastoral care.
There is a limited enrolment of fifty persons for the conference, which will take place at King's University in Edmonton. The $375 fee covers the program, meals, and housing. A discounted price is available for those not requiring accommodations, as well as for CLS alumni or field education/vicarage supervisors.
To register, see cost options, and available discounts, download the registration form here:
www.concordiasem.ab.ca/documents/SabbaticalWeekRegistration2017.pdf.
———————