FaithLife Lecture to address Opera and the Christian faith
November 27, 2013
One Comment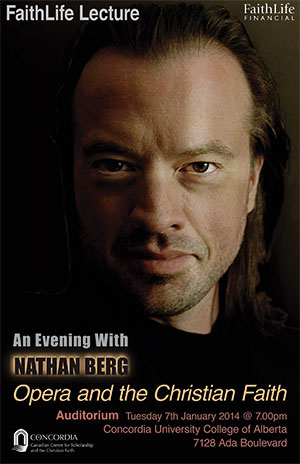 EDMONTON – The Canadian Centre for Scholarship and the Christian Faith (CCSCF), with the sponsorship of FaithLife Financial, will hold its annual FaithLife Lecture at Concordia University College of Alberta (CUCA) on Tuesday, January 7, 2014 at 7:00 p.m. in the Tegler Centre.
The lecture is entitled "An Evening with Nathan Berg: Opera and the Christian Faith". Nathan Berg, a world-renowned opera singer and pastor's kid, will sing arias and then talk about the relationship between the artistic world of opera and the Christian faith he loves.
The CCSCF encourages Lutheran Church–Canada members to invite their family, friends and congregations to this entertaining and enlightening event. Admission is free with reception to follow in the Glass Lounge. CUCA is located at 7128 Ada Boulevard in Edmonton.
The CCSCF is a place that continues to develop cutting edge ideas from a broad range of scholarly disciplines as they relate to the Christian Faith. CCSCF has a passion for learning with the public in community.
The 3rd Annual Conference of the CCSCF will be on "The Fine Arts and the Christian Faith" Friday and Saturday, March 21-22, 2014. The Canadian Lutheran will feature additional information about the conference (including registration information and featured speakers) as it becomes available.
———————