Founding seminary president called home
September 6, 2010
No Comment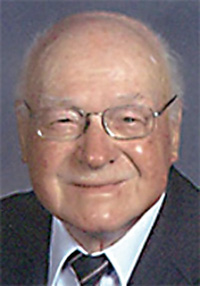 LINCOLN, Nebraska – The Lord called home the founding president of Concordia Lutheran Seminary, Edmonton, Rev. Dr. W. Theophilus "Ted" Janzow, on Saturday, August 21, 2010. Dr. Janzow was 91. He served as president of the Edmonton seminary from 1984-88.
"When Dr. Janzow suggested a motto for the new seminary in Edmonton, his choice was one that would stand the test of time, because it was God's Word'" remembers Rev. Dr. Ed Lehman, LCC president emeritus, who worked closely with Dr. Janzow to establish the seminary. The motto, Servants for Jesus' Sake would "motivate the entire seminary community and define its mission." Dr. Lehman recalls that "we soon came to realize that it also defined the servant heart of its president. He was surely God's chosen gift to us, and we thank Him for the legacy His servant left us. Servant for Jesus' sake —an inspiring motto; a fitting epitaph."
A leader in servant ministry within The Lutheran Church Missouri Synod, Ted's career included being a pastor of congregations in Mavie and McIntosh, MN; Murphysboro, IL and Walton, NE; as well as interim pastor at a number of Nebraska congregations. He served as president of the Southern Illinois District from 1957-1959. He was a professor of Sociology and Religion from 1959-1962, and was chairman of the Religion and Social Sciences Division at Concordia Teachers College, Seward, NE. He served as president of Concordia College, Seward from 1963-1977, and the director of College Relations from 1983-1987. Additionally Ted became the founding president of Concordia Lutheran Seminary, Edmonton, Alberta Canada from 1984-1988.
The Funeral Service was Thursday, August 26 at St. John's Lutheran Church, Seward, Nebraska; Pastor Robert Wentzel of Trinity Lutheran Church, Walton, Neb. officiating. Memorials:Concordia University, Seward, NE or Concordia Lutheran Seminary, Edmonton, Alberta.
Based on Lincoln Journal Star obituary