Gifts from the Heart: CLWR provides opportunities for Advent giving, reflection
November 28, 2014
No Comment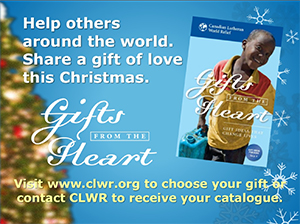 CANADA – Canadian Lutheran World Relief (CLWR) has released this year's Gifts from the Heart, a catalogue of gift ideas that make a difference in the lives of people in need around the world.
"Looking for a gift for the person who has everything?" promotional material asks. "Look no further than CLWR's Gifts from the Heart catalogue for a selection of gifts that are needed by people in refugee camps and impoverished communities. Donate one today in honour of friends and family this Christmas. Gift cards for your recipients are available upon request"
Gifts in this year's catalogue fall into a number of categories, including agriculture, safe water projects, children's education, health, and vocational training. LCC-focused mission projects include Christmas gifts for orphans in Ukraine; Christmas hampers for Nicaraguan church workers; health care in Nicaragua; meals for children in Central America; and children's education in Nicaragua.
You can order online here (payment by credit card only). To order by phone, call 1-800-661-2597 (payment by credit card only). You can also order by mail (payment by cheque or credit card); simply use the order form in the Gifts from the Heart catalogue that appears in the September/October issue of The Canadian Lutheran. Charitable receipts for tax purposes will be issued for all gift purchases.
CLWR has made available a number of congregational resources to promote the annual gift catalogue, including bulletin blurbs, powerpoint slides, and videos. Download them here.
Canadian Lutheran World Relief is also offering an online Advent calendar to celebrate the stories of people around the world that Canadians support through CLWR. Please contact Jennifer at jennifer@clwr.mb.ca if you wish to sign-up for daily Advent emails from Nov. 30-Dec. 25. The calendar will also be accessible at www.clwr.org  and through daily posts on CLWR's Facebook and Twitter pages.
Motivated by Christ's love, CLWR and LCC work in effective partnership to improve day-to-day life and provide opportunity for long-term sustainability in communities around the globe. Within Canada, CLWR assists Lutheran communities engaged in refugee resettlement.
———————