Gifts from the Heart
November 14, 2012
No Comment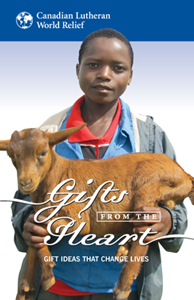 WINNIPEG – Canadian Lutheran World Relief's (CLWR) 2012 Gifts from the Heart program is already well underway. The September-October issue of The Canadian Lutheran included a catalogue insert highlighting ways Lutheran Church–Canada (LCC) members can bless people in need through the annual CLWR fundraiser.
"Purchasing Gifts from the Heart is a tangible way for you to share God's love with the world," the catalogue reads. People can purchase goats, mosquito nets, garden tools,  chickens, trees, medical kits, children's education, and many more items to bless those in need around the world. Contributions can also be made in honour of family or friends, with gift cards available upon request. These cards can be used to introduce people, the catalogue explains, "to the life-giving work carried out by CLWR in partnership with LCC." To ensure gift cards arrive in time for Christmas, CLWR encourages people to consider ordering by December 3.
Last year's Gifts from the Hearts helped educate more than 9,000 households in the safe use and storage of water, provided 1,800 farmers with tools, seeds, and livestock, and trained 360 community-based health care workers and teachers. It also raised $23,325 for LCC-specific missions and social ministry projects.
View the catalogue online here. Under the "project" heading, you'll find gift ideas under such themes as feeding families, improving health, and LCC missions.
——————–