Give a gift that matters with Gifts from the Heart
December 17, 2015
No Comment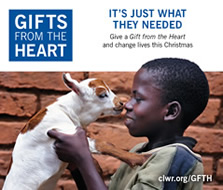 CANADA – Every year, Canadian Lutheran World Relief (CLWR) offers Canadians the opportunity to change lives at Christmas through the Gifts from the Heart program.
The Gifts from the Heart catalogue contains gifts "that symbolically represent the work of CLWR," promotional material explains. "Gift purchases will make a difference in the lives of people in need. They will help communities grow more food, improve health, increase opportunities for education and protect creation. Support goes to people in refugee situations and communities struggling with poverty."
Gifts in this year's catalogue fall into a number of categories, including agriculture, safe water projects, children's education, health, and vocational training. Lutheran Church-Canada (LCC) focused mission projects include Christmas gifts for orphans in Ukraine; Christmas hampers for church workers; meals for children in Central America; and children's education in Nicaragua.
You can order online here (payment by credit card only). To order by phone, call 1-800-661-2597 (payment by credit card only). You can also order by mail (payment by cheque or credit card); simply use the order form in the Gifts from the Heart catalogue that was distributed to congregations earlier this year. Charitable receipts for tax purposes will be issued for all gift purchases.
Motivated by Christ's love, CLWR and LCC work in effective partnership to improve day-to-day life and provide opportunity for long-term sustainability in communities around the globe. Within Canada, CLWR assists Lutheran communities engaged in refugee resettlement.
———————