God's Word for young readers
July 27, 2011
One Comment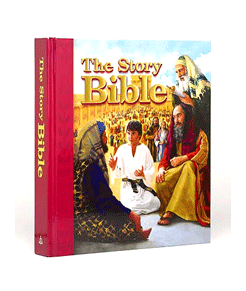 Little Lutherans now have a new way to learn about God's Word and the wonderful message it contains.  Concordia Publishing House (CPH), the St. Louis-based publishing arm of The Lutheran Church-Missouri Synod has released The Story Bible, designed to help children ages 3 to 8 learn the Sacred Scriptures.  The book features life-like, high-quality illustrations, Christ-centred stories, and resources designed to enhance learning. 
Senior editor, Rev. Edward Engelbrecht says he was never totally satisfied with the materials available to teach his own four children the Bible,  and he always wanted the opportunity to help create something different.  He teamed with co-editor Gail Pawlitz to create a rich and feature-filled resource that could help increase a child's understanding of the Bible.
CPH tested The Story Bible on the toughest focus group, children themselves.  At Immanuel Lutheran School in Washington, MO, Rev. Engelbrecht spent time reading to students from pre-school to second grade to find out what they wanted.  Ms. Pawlitz spent time talking with students and showed them various types of biblical art to see what they would prefer in the publication.  "That is why the illustrations in The Story Bible are not abstract cartoons.  Their realistic look helps reinforce to little children that the Bible is real, the people in it are real, and the places referenced are real," she says. 
"We had the opportunity to do this Bible story collection right, from the start," said Engelbrecht. "Plus, field tests of early editions helped us affirm the direction we were going." 
CPH publisher, Rev. Paul McCain is very pleased with The Story Bible too.  "Aside from the beautiful pictures and a wonderful design, The Story Bible offers something no other children's Bible provides—the wonderful, Christ-centred power of the Holy Scriptures," he says.  CPH wanted to keep the document Christ-focused.  Instead of paraphrasing, Rev. Engelbrecht and Ms. Pawlitz used stories directly from the Bible and adjusted them for student readability.
The Story Bible is a great addition to any Christian home, preschool, or congregational children's ministry.  To order, or learn more about The Story Bible, go to canada.cph.org or call 1-800-325-3040.