Gospel-motivated love
April 13, 2012
One Comment
by Mathew Block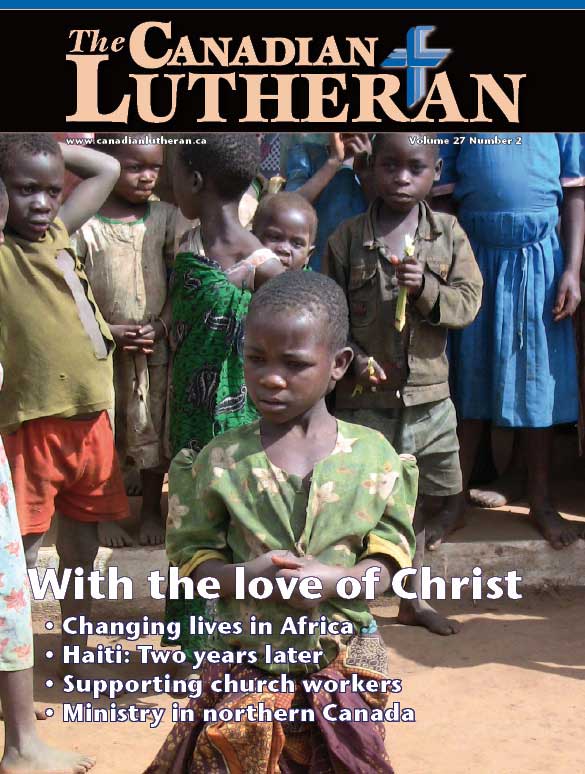 "He is not here. He is risen!" This is the Good News of Easter: Jesus Christ died, but He did not stay dead. He bore our sins, suffered the punishment we deserved, and three days after He was laid in the tomb, God raised Him from the dead. As He lives now, we too shall live!
This is the Gospel we believe and proclaim every day as Christians, but especially so in the season of Easter. It's a season lasting seven weeks on the Church calendar, culminating with the ascension of Christ to the Father and the sending of the Holy Spirit at Pentecost. It is a season for joy and for celebration.
It is also a season for evangelism. Not everyone has heard the Good News of Christ. Of those who have heard, many have not yet believed. As we reflect on our own salvation, we cannot help but remember God's call to bring the Gospel to "all nations, baptizing them in the name of the Father and of the Son and of the Holy Spirit, teaching them to observe all that I have commanded you" (Matthew 28:19). When we read "all nations," it's easy to imagine the phrase solely as a call to missions abroad—in places like Africa and Asia. But more and more these days, we are reminded how great the need for evangelism in our own country has become. The reality is that Canada is no longer (if it ever was) a Christian nation.
Not only has worship attendance across the country plummeted, revealing a general disregard for the command to remember the Sabbath day by keeping it holy, even basic Christian morality has begun to evaporate. A recent ruling by the Supreme Court of Ontario decriminalized brothels, and rather than Canadians protesting the decision, most people actually seem to approve. An Ipsos Reid poll reports a full 2/3 of Canadians support the legalization of brothels—a shocking statistic given that more than 70 percent of the population claims to be Christian. But, in light of another statistic, perhaps it's not all that surprising: less than a third of Canadians today consider religion "very important" in their lives.
Canada has become a secular nation. Not so overtly as has much of Europe, perhaps, but certainly more so than the United States of America. For many, faith is no different than ethnicity. "I'm Christian because my grandparents were" is suddenly the same as "I'm German because my grandparents came from there." We are living in post-Christian times.
We are living in post-Christian times.
Given the general disinterest or even outright resistance in Canada to the Christian message, some people wonder how we're supposed to make the connection. St. Paul asks how people can believe if they don't hear the message (Romans 10:14). We might well ask how they will hear if they won't listen. The fact is, people don't always seem very interested in what we have to say.
But there are ways of catching their attention: and perhaps no way is more attention-grabbing in a society as self-centered as ours than to live lives of service and love for others. That's precisely what happened recently in Texas. Patrick Greene, a man known for his involvement in atheist activism, recently threatened to sue Henderson County, Texas over its Nativity display. But he suddenly developed eyesight problems and was forced to not only renege his threat to sue, he also had to quit his job. With no income, things looked bleak. Until, that is, a local Henderson County church began raising money to help Green and his wife purchase groceries and pay rent.
"I thought I was in the Twilight Zone," he told The Christian Post. "These people are acting like what the Bible says a Christian does." He saw genuine concern for his well-being, despite his opposition to Christianity. And so he turned to the Scriptures, eager to find what could motivate such selfless love. There, by the grace of God, he found Christ.
Let's be clear: acts of love didn't convert the man. But they did drive him to the Word of God, the very tool the Holy Spirit uses to engender faith. The good works of Christians pointed him back to the God who motivates good works.
The good works of Christians point back to the God who motivates good works.
Some Christian groups have lost sight of the importance of connecting acts of love with Gospel proclamation. Proclaiming a "social Gospel," they teach that God wants us to love and help others in their physical needs—but then they fail to address their spiritual needs, never explaining the story of the Saviour who loves all people and died for them, who forgives their sins and opens heaven to them. They forget that social ministry can and should be intrinsically connected with evangelism.
Indeed, Christ tells us to do good works for this very reason: "Let your light shine before others," He says, "so that they may see your good works and give glory to your father who is in heaven" (Matthew 5:16). Likewise, St. Peter writes: "Keep your conduct among the Gentiles honourable, so that when they speak against you as evildoers, they may see your good deeds and glorify God on the day of visitation" (1 Peter 2:12). The way we live in the world around us correlates directly to how people react to our message.
In this issue of The Canadian Lutheran, we explore how Lutheran Church–Canada members are acting in love for others. Along the way, we see how that love opens the doors to the message of Christ—whether it's the opportunity to proclaim the Gospel in a small African village or seeing the growth of Christianity in places like Haiti.
We thank God for His undeserved mercy to us; and in turn, we share what we have received from Him with others. It's Gospel-motivated love. And that love, by the power of the Holy Spirit, can in its turn open hearts to hear the Gospel.
——————–
Mathew Block is editor of The Canadian Lutheran magazine.