Haiti: Two years later
April 20, 2012
No Comment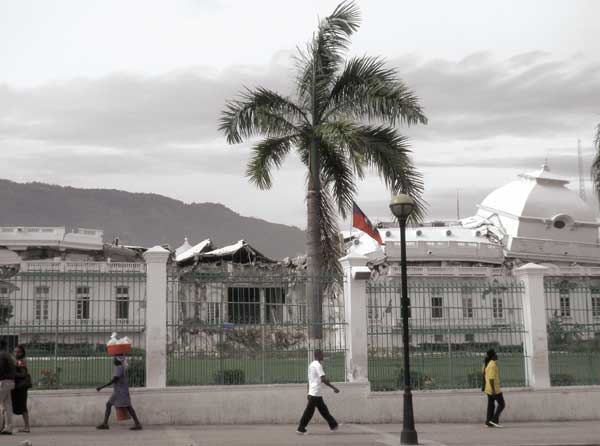 by Ian Adnams
With the speed of today's news cycles the old adage "out of sight; out of mind" is more relevant than ever. Yet just because news gathering organizations are no longer interested in a story doesn't mean it goes away. This is often the case with natural disasters. A tornado decimates a neighbourhood or town; we see the damage and feel sympathy for those suffering. Then, within 24 hours, the situation is out of mind. Those who went through the tornado still have their lives to live and reclaim, but we don't often see that part.
The situation is more profound with natural disasters overseas. The level of news coverage is directly proportional to how close the disaster occurs to major news gathering agencies and their crews. An earthquake in a remote part of Asia may kill thousands, yet we see nothing of it because it's just too far to send a crew and reporter.
This was not the case in January 2010 when a magnitude 7 earthquake struck Haiti, about 1000 km off the coast of Florida. For weeks news reports kept North Americans up-to-date on emergency relief efforts, and the sometimes treacherous life in tent cities where hundreds of thousands of homeless survivors lived in squalid conditions. Hurricane rains and winds compounded an already desperate situation in a country where the political situation was as unstable as earthquake rubble.
The statistics from the earthquake staggered the mind: as many as 316,000 dead;1.5 million homeless; more than 600,000 injured. And those are just the "official" statistics. With the mass migration from the capital city Port-au-Prince following the quake, people now homeless became refugees taking shelter with family and friends in areas far from the epicentre.
The world community responded to the disaster with great generosity. Through the United Nations, pledges from governments exceeded $4.5 billion. In Canada, Lutherans provided Canadian Lutheran World Relief with $1.3 million to help with immediate needs and longer-term relief. The Haiti Lutheran Mission Society (HLMS), a listed service organization of Lutheran Church–Canada (LCC), used its connection with Lutheran Church Haiti (LCH) to help the Haitian church serve the needs of earthquake victims.
On the ground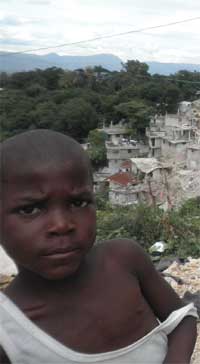 Although located some 150 km from the earthquake, the headquarters for Lutheran Church Haiti in Gonaives, with assistance from HLMS, immediately responded to the needs of the displaced persons. With a $30,000 grant from CLWR, the mission society and LCH bought tents to house those who had fled the city. Howard Bogusat, who is responsible for gathering and shipping materials from Canada to Haiti reports: "LCH responded immediately, by organizing about ten relief aid trips from Gonaives to the stricken area (Port-au-Prince and neighbouring cities). To a large extent, these quick-response-trips that brought food, water, blankets and spiritual counsel and comfort were financed by HLMS's quick response in sending funds to the LCH."
At the same time, Canadian Lutheran World Relief, working through its partner organizations, used the funds it collected to provide emergency relief such as tents, water, food and medical aid. By the end of the crisis period, CLWR had forwarded about half of the donations received for emergency work leaving a significant portion for long term assistance.
As it surveyed its own congregations, LCH discovered 55 church buildings were damaged beyond repair. The church president, Rev. Revenel Benoit asked HLMS if it could help raise funds for rebuilding. The result saw congregations in Lutheran Church–Canada's East District provide funds to rebuild 45 churches. In addition, construction teams travelled to Haiti for hands-on participation in the building projects.
Canadian Lutheran World Relief, working through ACT Alliance, an international consortium of Christian relief agencies, helped rebuild schools and provided school supplies. Lutheran congregations in Canada sponsored and gathered almost 2000 We Care kits for children who had lost everything in the earthquake and needed to continue their education. The kits contained notebooks, pencils with erasers, a ruler, pencil sharpener, eraser, crayons (or pencil crayons), a simple toy, a bar of soap, toothbrush and toothpaste. The same shipment included a hospital beds and wheelchairs to help resupply Haiti's damaged medical facilities.
As is often the case, a natural disaster exposes and compounds existing problems. It also opens doors for longer term engagement addressing both spiritual and physical needs.
Despite relief efforts and funding, Haiti is still recovering. In a January 2012 report, CBC noted that more than 500,000 people still live in tents, densely packed together in communities where disease easily finds a stronghold.
Caring for body and mind
It wasn't long after the earthquake that a new menace threatened Haiti. Cholera, a water-born, often fatal disease spread quickly due to the overall unsanitary conditions especially in the tent camps, made worse with heavy rains.
HLMS responded by sending $25,000 for medical aid for the treatment of more than 6000 persons. In a report to its supporters the society noted, "The people did not know how they got cholera. But they were educated about cleanliness, latrines, clean drinking water through Lutheran Church Haiti TV and radio stations. Now, over 11,000 people have learned how to prevent cholera."
Cholera killed some 2000 people and highlighted the long-term need for water purification. HLMS is currently supporting an effort to provide Haiti with "biosand" water filters developed in Alberta. The treatment takes water from almost any water source, filters out the impurities, including parasites, spores, viruses, eggs, worms, and bacteria, making it completely drinkable. A $2000 grant from HLMS provided training for two men who, in a pilot project, will construct five filters and train workers to maintain them at schools. "We hope that this is just the beginning of expanding this project," noted Mr. Bogusat.
The relationship between HLMS and Canadian Lutheran World Relief triggered by the earthquake could lead to a project that would bring long-term relief to the more than 1 million displaced persons in Haiti. The two organizations are discussing a vocational training project that could extend to 2015.
Using the balance of the $1.3 million donated by concerned Canadians and working with Canadian International Development Agency, the project focuses on "youth professionalization and promotion of micro-business activities among young Haitians through vocational training towards environmentally-responsible livelihoods." Unemployment is extremely high in Haiti. More than two-thirds of the labour force has no formal employment. So by providing these kinds of skills, the project can help lay the foundation for a brighter future.
Caring for souls
The social ministry carried out by the LCH and the other confessional Lutheran church body in Haiti, the Evangelical Lutheran Church in Haiti, supported by The Lutheran Church—Missouri Synod (LCMS), was always married to Gospel proclamation. The result is new believers, new congregations and a continuing thirst for the God's Word. These developments resulting from post-earthquake assistance exposed the glaring need for more pastors.
In February 2012, the presidents of both Haitian Lutheran church bodies met with LCC president, Rev. Dr. Robert Bugbee and Rev. Dr. Albert Collver III, director of Church Relations and assistant to the president of the LCMS. By working to train pastors together, confessional Lutherans in Haiti can pool teaching resources to more effectively proclaim the Gospel in their land.
The theological training model proposed is based on the success of LCC's seminary training in Nicaragua, Ukraine and Thailand where professors travel to the country to teach courses in day-long classes for up to two weeks.
Haiti still faces challenges. Some existed before the earthquake; others came as a result. These challenges open doors for the proclamation of the Gospel and present opportunities for service in the name of Christ.
——————–
Ian Adnams is former editor of The Canadian Lutheran.