Indigenous Woods concert at Concordia
March 17, 2014
No Comment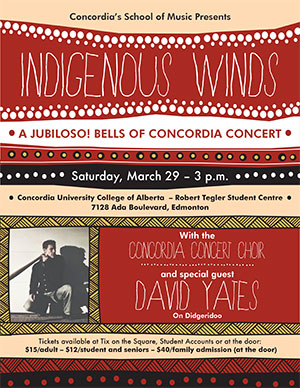 EDMONTON – Concordia University College of Alberta's (CUCA) School of Music will hold a Jubiloso! Bells of Concordia Concert on March 29 at 3:00 p.m. in the Robert Tegler Student Centre.
The event—Indigenous Woods—will feature 270 handbells, Concordia's student choir, and special guest David Yates on didgeridoo, an indigenous Australian wind instrument. Tickets are $15 for adults, $12 for students and seniors at Tix on the Square, Concordia Student Accounts, or at the door. A special family rate of $40 is available at the door only.
David Yates will also offer a prelude to the concert entitled "Didgeridoo: A Journey of History and Performance on March 25 at 7:00 p.m. at Ascension Lutheran Church in Edmonton (8405-83 Street). A freewill offering will be received.
———————