Language is argument and argument is language for Martin Luther: New book
November 16, 2010
One Comment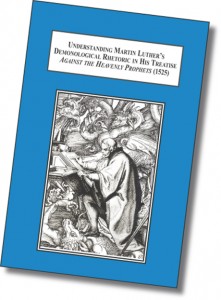 by Keven Drews
WINNIPEG — A Canadian Forces chaplain hopes a recently published book will educate the public about Martin Luther and spark some healthy discourse and debate within the church.
This past May, Edwin Mellen Press published Rev. Harold Ristau's 545-page, hardcover book, titled Understanding Martin Luther's Demonological Rhetoric in His Treatise Against the Heavenly Prophets (1525): How What Luther Speaks Is Essential to What Luther Says.
The book focuses on Luther's use of rhetoric in a heated 16th-century debate over the sacrament of Holy Communion with former colleague Andreas Bodenstein von Karlstadt. Von Karlstadt argued the body and blood of Jesus Christ were not present in the sacrament.
"Although it is a scholarly work and directed mainly to clergy and a more 'intellectual' lay audience, there are chapters in the book that will be of interest to anyone who has any interest in Luther and his rhetoric," said Ristau.
Ristau argues Luther used rhetoric to demonize his opponents, which is called an "ad hominem to his argument." He argues Luther's rhetoric was deliberate, and through his use of rhetoric, Luther restates his own argument. In other words, language is argument and argument is language for Martin Luther.
The book has received some strong reviews from Lutheran colleagues in Canada and abroad.
"By virtue of his extensive and discerning re-thinking of the relevance of Luther's rhetoric to the interpretation of the subtle contours of his theology, Harold Ristau has made a highly constructive contribution to Luther scholarship, one well deserving of correspondingly careful study and attention," said Dr. Torrance Kirby, of McGill University, in a review posted on Amazon.com.
"Harold Ristau achieves a stunning feat," added Dr. John W. Kleinig, of the Australian Lutheran College. "With a post-modern concern for the performative, constitutive function of the spoken word, he manages to explain and to some extent, even commend this polemical text…"
Ristau, a Lutheran Church–Canada chaplain currently serving in Afghanistan with the Canadian Forces, said he began the project eight years ago. He completed his PhD at McGill University, took his thesis and simplified it, making it more accessible to the public.
"Luther is often misunderstood, and so the topic was of great interest to me as a Lutheran minister," said Ristau.
Edwin Mellen Press has published 500 copies of the book, which retails for $139.95.
Ristau donated two copies to Lutheran Church–Canada's two seminaries.
He is now working on a French book focusing on children's talks for home devotion and Sunday school teachers.
The book is available at http://www.amazon.com/Understanding-Demonological-Rhetoric-Treatise-Heavenly/dp/077343724X