LCC and CLWR issue appeal for Nepal relief
April 28, 2015
No Comment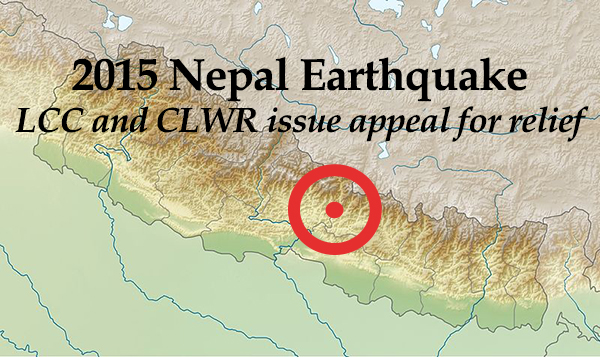 NEPAL – Lutheran Church–Canada (LCC) and Canadian Lutheran World Relief (CLWR) have issued an appeal for financial donations to support earthquake relief in Nepal. The Government of Canada will be matching donations made for earthquake relief in Nepal until May 25.
A massive 7.8 magnitude earthquake on April 25 has had devastating results for the people of Nepal. As of April 28, officials say at least 5,000 people have died, with fears that the final numbers of deceased may reach more than 10,000. [UPDATE: As of May 1, officials stated the death toll was now well over 6,000.] Thousands of people have been injured and another half million people have been displaced as a result of the quake. Millions more are facing food, water, and electricity shortages.
"Our hearts are grieved by what has happened in Nepal," said LCC President Robert Bugbee. "I ask our members across the country to keep the people of Nepal in prayer, and to give what you can to support the efforts of relief workers in the midst of this terrible tragedy. God bless their work and keep the people of Nepal from further harm."
Funds raised by LCC and CLWR will be used to support the work of the Lutheran World Federation (LWF) emergency response team already in place in Kathmandu. Staff members distributed tarpaulins, hygiene kits and ready-made food to about 400 families in Kathmandu over the weekend, despite being displaced from their homes themselves. Along with assessing the situation in remote communities, priorities are now to provide water, sanitation and hygiene materials, as well as emergency shelter to people who lost their homes or who are staying outside for fear of aftershocks.
The United Nations reports that people affected by the earthquake are in need of food, water, emergency shelter and healthcare, with many having slept in the open in makeshift tents in the nights following the earthquake, either because their homes were destroyed or they are afraid aftershocks would make their homes collapse.
LWF has decades of experiences with development and relief work in Nepal, having established its office there in 1984. They are currently working with the Nepalese government, the United Nations system, and other partners to further coordinate their response.
The need of the Nepalese people is great, and your donations can go a long way to providing the assistance they so desperately need.
Make a designated offering donation through any Lutheran congregation in Canada.
Call CLWR at 1.800.661.2597 (locally at 204.694.5602) to donate by credit card.
Send a cheque made payable to CLWR and mailed to CLWR, 600-177 Lombard Avenue, Winnipeg, MB R3B 0W5. Please indicate that you wish to contribute to "Nepal earthquake relief."
———————
Banner image based on work by Uwe Dedering, licensed under Creative Commons Attribution-Shake Alike 3.0 Unported.