LCC Releases National Survey on Restructuring: Your Input is Needed
February 4, 2016
No Comment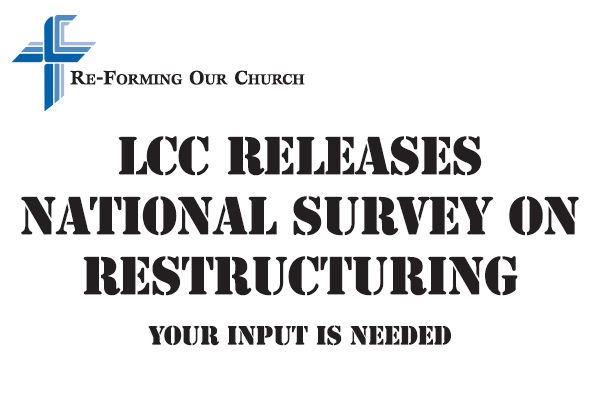 CANADA – On February 1, 2016, Lutheran Church–Canada (LCC) released a church-wide survey, asking all members of LCC—lay, clergy, and deacons—for their input on the restructuring of our church.
"Your participation in completing the Survey is very much needed!" explains Rev. William Ney, Chairman of LCC's Commission on Constitutional Matters and Structure in a newly-released letter to the church. "Our goal is to present to the Convention in 2017 a structure that will reflect the will of the majority of the members of LCC, not just a few in leadership positions."
"The structure that emerges from your responses will lay the groundwork for how we will do national and international missions and ministry for many decades, and perhaps even generations, to come," he continues.
The Commission is anticipating at least 2,000 responses to the survey in order for the results to reflect the perceptions of the whole church. The summary of all the responses together will all comments will be made available to every member of every LCC congregation together with an analysis of the data by the restructuring consultant.
"The results of this survey and your comments will be read by thousands of members of LCC congregations and will form the basis of the discussions across LCC in the coming year," an introduction to the survey notes. "The Commission will use the survey results and Synod-wide consultations to form the recommendations for review by the Board of Directors prior to bringing them to the 2017 Convention."
The survey, which is restricted to LCC members only, can be completed either online or in print and is completely anonymous. You can obtain a paper copy of the National Survey from your pastor, congregational chairman, or secretary. The same people can provide you with a web-address and password to complete the survey online.
The online version of the LCC National Survey will close at midnight February 29, 2016. The complete results, comments, tables, graphs, and analysis of the survey will be made available to all LCC members before the end of March 2016.
You can read collected information on the Restructuring Process at www.canadianlutheran.ca/lcc-restructuring-process/.
———————