"Les Petites Rencontres avec Jésus": for the Lost and Found
August 30, 2018
No Comment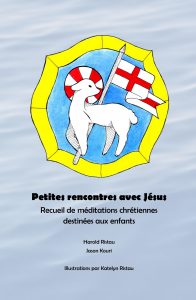 "Often the mission of the Church is divided into two mandates: 'in reach' and 'out reach'. It is a useful distinction, because there is a time and a place for all things. Just as treating Divine Service as primarily an outreach opportunity to unbelievers or Christians of other denominations is wrong-headed, so is expecting the unbelieving world to understand the meaning of Christian terms and concepts, and Lutheran expressions, when, say, talking with colleagues at work and sharing the Gospel with them there. But every once in a while, we discover opportunities where the two mandates can be combined into one!" Source: Publicity release.
Concordia Lutheran Theological Seminary (CLTS) has recently published "Les Petites Rencontres avec Jésus" (Small Encounters with Jesus) by Harold Ristau and Jason Kouri, who have been working on the project for about 8 years. Inspired by the very popular English children's devotional "Little visits with Jesus", these French devotions for both congregational and home use offer a short devotion based on a household object, and followed by a prayer, that follow the Sundays of the church year. "As far as I know", comments Prof. Ristau, "This kind of literature, though popular in English, does not really exist in French culture. I became aware of that years ago as a military chaplain in charge of a protestant chapel in which I offered weekly children's talks with an object during worship, and it was very popular. The chapel attendees, all non-Lutherans, had never encountered this kind of Gospel presentation, and encouraged their publication."
The book includes a preface and endorsement from the Confessional Lutheran church of France. 500 have been purchased by the Haiti Lutheran Mission Society and shipped to Haiti for out reach and Christian education. Several mission groups within the LCMS, including Lutheran Heritage Fund, have expressed interest with regards to disseminating the books in their mission fields. One goal is to send a copy to every protestant church in Québec, as a joint effort with LC-C, as a way of both providing them with a good example of a solid Gospel-centric resource for children, and also to help increase exposure to Lutheranism in that province.
The book is written with both Lutheran and non-Lutheran audiences in mind. The authors have deliberately avoided any Lutheran-specific language – terms that only catechized Lutherans may only be familiar with — without compromising the Law/Gospel distinctions, sacramental theology, and liturgical contexts. Most French Lutheran material can be quite dogmatic in its language and, thus, although great in content, difficult for less-learned laity, and especially children, to comprehend. We have attempted to jump over that hurdle in this devotional and make it accessible to French Christians of all ages and situations: catechizing new Lutherans or inspiring mature ones; educating non-Lutherans or witnessing to the unbelievers. Its simplicity, coupled with confessional theology, is what makes this document a unique tool to missions: reaching out to "the lost" while better catechizing "the found".
Copies are available through CLTS at $4.00 CDA plus shipping.