Life in seminary
February 22, 2013
One Comment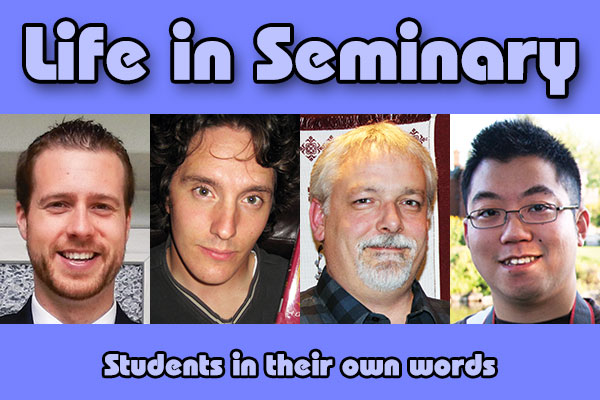 ———-
For our January/February issue, The Canadian Lutheran focused on how God calls pastors to serve the Church. To accompany Ed Kettner's article on that topic, we interviewed four current seminary students to see what life in seminary is really like. Along the way, we were reminded that God calls men of various backgrounds, ages, and interests to be pastors. Some play video games. Others like working with their hands in gardens or on woodworking. Others enjoy skiing. Some are married with grown children; others are single. Some have wanted to be pastors since they were young; for others, the decision came later in life. But they they all have these two things in common: a desire to serve God and His people in the Church, and a willingness to be shaped into the pastor God wants them to be.
Click on the images below to hear, in students' own words, what life in seminary is like at Lutheran Church–Canada's two seminaries.
Why not take the time to get to know a few students actively pursuing the ministry? You might be surprised to discover you have something in common with them. And, just maybe, you'll consider attending seminary yourself. Or perhaps you'll see them and be reminded of men you know in your own congregation—men God might be asking you to encourage to become pastors. Why not share these interviews and Dr. Kettner's article with them? It's as easy as sending an email, posting a link on Facebook, printing off a copy for them, or putting the January/February issue of The Canadian Lutheran into their hands, with a few choice bookmarks marking the appropriate pages.
——————–
If you're considering pastoral ministry, please contact one of Lutheran Church–Canada's two seminaries: Concordia Lutheran Seminary (Edmonton) or Concordia Lutheran Theological Seminary (St. Catharines, Ontario). They can help you discern whether seminary is right for you.