Lutherans call for prayer amidst devastating forest fires
SASKATCHEWAN – The largest evacuation in Saskatchewan's history has Lutherans calling for prayer in Northern Saskatchewan. The area is facing a particularly devastating forest fire season, with 54 communities under a full or partial evacuation at this time; more than 13,000 people are currently displaced, with a significant number of these from towns and reserves in the La Ronge area. Many of these have being cared for the Red Cross in shelters in Saskatoon, Regina, and Prince Albert, Saskatchewan, as well as in Cold Lake, Alberta.
Worse, the media reports the fire is still inching ever closer to La Ronge, even as Canadian Armed Forces join the fight in an effort to prevent disaster.
La Ronge Lutheran Fellowship
"At this time we are still very much in a 'day by day' scenario with things constantly in flux," explains Rev. Cody Cooper, pastor of La Ronge Lutheran Fellowship. The evacuation of congregation members and community members to a variety of locations has left Rev. Cooper, along with Deacon Melissa McNeil and retired pastor Rev. Wayne Olson, working hard to minister to those affected. "Various members of our congregation are in different locations across the province, including back in the La Ronge area," Rev. Cooper notes, "but all are safe."
As a result of the diaspora, much of the church's ministry in recent days has taken place through electronic means. "I have had a lot of correspondence via phone, text, email, and Facebook," Rev. Cooper explains. But he was able to find travel to the Saskatoon area on Tuesday July 7, where he plans to visit and serve those affected in person, "specifically those who were evacuated from the La Ronge Long Term Care facility, parishioners, and those in the locations set up for evacuees."
In more ways than one, the situation represents a baptism by fire for Rev. Cooper, who was only recently installed as pastor of La Ronge Lutheran Fellowship. June 28 marked his service of ordination and installation (he had also previously served his vicarage at the church). "I have often heard pastors reminisce about their ordinations," he noted shortly thereafter on Facebook. "Forest fires, road closures, last minute changes, people displaced…. the list goes on."
Meanwhile, Deacon McNeil has also been "serving faithfully not only as a church worker but also in her vocation with the Health Region," Rev. Cooper writes. In addition to serving as a church worker, Deacon McNeil is the Methadone Coordinator of the Mamawetan Church River Health Region. As a result of the evacuations, her clients have been relocated all across the province.
"I have been coordinating care for our patients with the Red Cross and other Health Regions," Deacon McNeil explains. "Last night, I toured the Regina Evacuee Centre at Evraz Place, providing coffee and a listening ear to several individuals from La Ronge and Stanley Mission." Many of these people have not had access to phones or social media, she explains, and are therefore anxious to hear about what is happening back home. While many people, including congregation member, have been able to find accommodations with family and friends, she says, there are many without contacts or who have financial barriers that leave them no other option than to stay in shelters.
Deacon MacNeil is currently in Saskatoon where she is attending to patients. She will travel to Prince Albert on Friday for similar work, following which she will join Rev. Cooper in visiting congregation members. She is also trying to track down youth group members in Saskatoon and Prince Albert, and to plan evening activities for them.
Rev. Olson, meanwhile, has been keeping in touch with people from Turtle Lake.
Please continue to pray for our community and those who stayed behind to help fight the fires. I have never seen or experienced anything like this in my life.
The need for prayer is clear, as the battle to contain Saskatchewan's wildfires continues. "Please continue to pray for our community and those who stayed behind to help fight the fires," Deacon MacNeil asks. "I have never seen or experienced anything like this in my life."
Lutheran Association of Missionaries and Pilots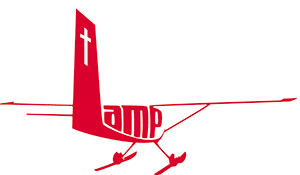 The wildfire situation also has the Lutheran Association of Missionaries and Pilots (LAMP) calling on Lutheran churches and individual members to consider how they can reach out to those in need.
"People are asking what they can do to help," explains Ron Ludke, Executive Director of LAMP. "The first thing is to be in prayer. People all over the North are asking us to pray for rain."
"The second thing church members can do is to remember that there are now thousands of people displaced from their homes, and to respond appropriately. Imagine you suddenly had to flee your home. What would that make you? Refugees. "
Many of those displaced are being sheltered in communities with Lutheran congregations, he noted—in Regina, Saskatoon, and Prince Albert. "Make an effort to go and ask people facing this situation how you can help them. Open your hearts, your homes, your churches to the people that are refugees in your own community. Go and ask: can we provide clothing? Can we provide food? How can we help?"
Open your hearts, your homes, your churches to the people that are refugees in your own community. Go and ask: can we provide clothing? Can we provide food? How can we help?
LAMP is a Listed Service Organization of Lutheran Church–Canada dedicated to sharing Jesus Christ with God's people in remote areas of Canada. A major part of that work includes operating Vacation Bible Schools in northern parts of the country. This week LAMP is running Vacation Bible Schools in four communities in Northern Manitoba (Thompson, Lynn Lake, Leaf Rapids, and Brochet), as well as one in Northern Saskatchewan (Wollaston). While these communities are not currently under direct threat from wildfire, the teams are dealing with significant smoke due to forest fires in other areas. A VBS scheduled for next week in Stanley Mission is currently in flux; Stanley Mission is part of the Lac La Ronge Indian Band, which was evacuated this past weekend.
LAMP Director Ludke encouraged people to trust God to be in control of the wildfire situation. "Every year there are challenges in missions," he noted. "Every year, challenges seem insurmountable, but God shows up. God responds. We expect God to do His part. Through this situation, God will create opportunities to reach out to people. We all need to be prepared to step in and respond however we can."
Wildfire effects felt throughout Canada
The province of British Columbia is also facing unusually prolific wildfires this season, which are stretching provincial resources to the limit. While only 40 homes were under evacuation order as of July 7, a further 920 were on evacuation alert. The situation in B.C. has led to the death of one person so far: a tree faller, helping to contain the Old Sechelt Mine wildfire, died July 5 in an accident.
Even in communities not threatened by fire, smoke is filling Canada's skies. Vancouver, Victoria, Regina, Saskatoon, and Winnipeg have all seen darkened skies over the last number of weeks and air advisories have been issued in many communities—palpable reminders of the grave situation facing many northern communities.
———————
Banner image via the Government of Saskatchewan's Facebook page.