Magazine for Lutheran women goes digital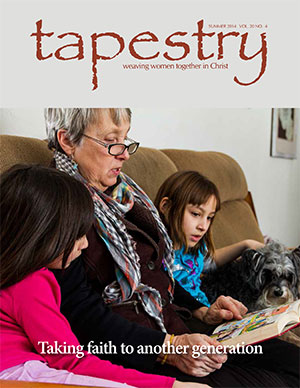 ONLINE – Tapestry, a magazine developed for the women of Lutheran Church–Canada by Lutheran Women's Missionary League – Canada (LWMLC), is now available in a fourth format—digital—for those who prefer to do their reading online and for those with vision challenges who can enlarge the copy on screen. Begun in 1995, Tapestry has always been available in print. Since then large print and audio versions have also been added.
"This digital version is not intended to replace print," says editor-in-chief Marion Hollinger. "Most of our current subscribers prefer a magazine they can hold in their hands and we are glad to be able to provide that despite rising costs. But there's a whole other audience out there who can now enjoy Tapestry on their tablet or other device and we want to provide it for them. There won't be any fancy page turning but there will be lots of links within the document and to related websites."
"While Tapestry was begun for women of LWML-Canada, the focus has gradually changed," says LWMLC President Iris Barta. "Today only a small portion of the magazine talks about matters specifically related to the organization and even then the ideas and information shared may be used by other women in LCC wherever they may be serving in the Church."
Tapestry also makes a great tool for sharing the Good News. Besides mission stories and stories revealing women's hopes, struggles, fears and celebrations as they seek to live out their faith, Bible studies are published in each issue. One of our district and national leaders says, "I have a neighbour lady who asks for my Tapestry all the time. The Bible studies are the main thing she reads, sometimes the stories. She doesn't go to church but Tapestry helps her keep in touch with God. My daughter, a busy working mom, running with the children for sports and other activities, attends church, helps with Sunday school, and doesn't have time for LWMLC. But she sits down in her spare time and reads the Bible studies. That's two people in my life who are touched by the Word of God through Tapestry. We can each think of at least one woman to whom we could reach out in this easy way, and with the new digital version it's even easier."
To check out the digital version (and sample articles from the other versions) visit www.lutheranwomen.ca/publications-and-forms/tapestry and download the summer 2014 issue.
A link to a subscription form for all formats can be found on the same web page. For those who wish to order a print version, ordering through your congregation's LWMLC society will lower the cost. Let them know you wish to be included and provide them with your payment. Because the LWMLC publishes Tapestry completely with volunteers, its ask for renewals once a year, due right now. New subscriptions are accepted throughout the year with the cost depending upon how many copies are left in the current subscription year.
———————-