New book: Atheism and the Christian Faith
January 9, 2018
No Comment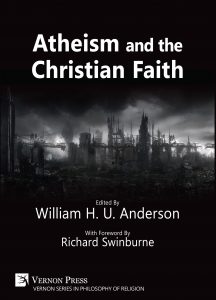 EDMONTON – Rev. Dr. Bill Anderson, Professor of Religious Studies at Concordia University of Edmonton (CUE), is pleased to announce the publication of his third book, Atheism and the Christian Faith. Dr. Anderson is a pastor on the roster of Lutheran Church–Canada (LCC).
Atheism and the Christian Faith is an edited anthology of the proceedings from the 2016 conference of the same name published by Vernon Press. The book advances arguments around serious philosophical issues of direct relevance to contemporary society. It will be of interest to a broad range of scholars in philosophy, theology and epistemology—the investigation of origin, nature, methods, and limits of human knowledge.
The foreword is by noted philosopher Richard Swinburne of Oxford University, who contributes two chapters to the book. Another contributor is CUE's Rev. Dr. Jonathan Strand, writing on "Theism, Atheism, and the Ethics of Hope." Dr. Strand is also an LCC pastor.
Atheism and the Christian Faith is largely driven by philosophers and philosophy, and represents a wide gamut of views from atheists, agnostics, and theists. It is dedicated to a beloved CUE faculty member and LCC pastor: "In Loving Memory of Russ Nelson: A Truly Brilliant Scholar and the Epitome of Christian Faith."
For more information, please visit https://vernonpress.com/title.php?id=247#.WZyVVz6GOcM or Amazon http://a.co/ag6l2GY