New French and Chinese resources from Lutheran Laymen's League
March 25, 2014
One Comment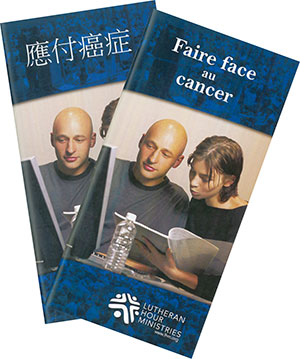 CANADA – Lutheran Laymen's League of Canada (LLLC) has announced the publication of Coping with Cancer in French and Chinese.  It is the second title from Lutheran Hour Ministries' (LHM) Project Connect series to be translated with the assistance of pastors of Lutheran Church–Canada. There has been a positive response to these resources says Stephen Klinck, Managing Director of LLLC.
Project Connect booklets deal with life issues from a Christian perspective and have been very popular with congregations across North America. More than 50 booklets are currently available in English and many of them have already been translated into Spanish. LLLC is happy to have the opportunity to make these booklets available in more of the many languages spoken here in Canada.
Congregations find the booklets useful for ministry to their members and for reaching out to people in the communities they serve. In addition to printed copies, these translated texts are also available on-line at www.lll.ca/booklets making them accessible to people around the world. "Today I had a request from the LHM office in Korea" says Stephen Klinck. "People there want to use the booklets with university students who are learning Chinese".
For more information contact, Lutheran Laymen's League of Canada at 1-800-555-6236 or email  helpful@lll.ca or visit our website www.lll.ca.
———————