New hymns for Christmas and Epiphany
December 8, 2010
No Comment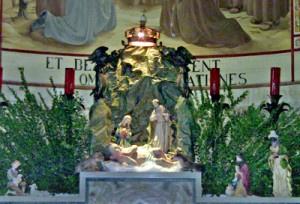 Lutheran congregations in Canada have two additional hymns for Christmas and beyond. Lutheran Church–Canada's Committee on Worship and Music released another Christmas hymn plus an Epiphany hymn translated from Liturgies et cantiques luthériens, LCC's French hymnal.
According to Pastor David Saar, who helped produce the French hymnal, "In This Poor Stable is a popular and standard Christmas hymn in Québec." The pastor provided a MIDI file of the melody. You can listen to the hymn and download bulletin-sized PDF copies HERE
The other hymn is for Epiphany, The Western Sky Lit Bright By a Star. It is set to the familiar tune From Heaven Above (LSB 358). The French author, Rev. Wilbert Kreiss, is a pastor of the Evangelical Lutheran Church–Synod of France, a member of the International Lutheran Council.
Thanks to the translation work of Pastor Kurt Reinhardt, LCC congregations have six new seasonal hymns to celebrate Advent, Christmas and Epiphany.