New Lutheran Hour Speaker premieres Easter Sunday
April 12, 2011
No Comment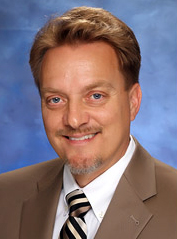 Pastor Greg Seltz will go on the air Easter Sunday with his first sermon as Speaker for The Lutheran Hour® radio program. His Resurrection Day message will echo that of the Speakers who have gone before him over the broadcast for more than 80 years: God's free gift of salvation to this fallen world is the sacrifice of His Son Jesus Christ on our behalf. Believe on Him and you will be saved.
Pastor Seltz begins with a familiar expression: "He is risen! He is risen indeed!" He continues, "…and His resurrection makes life worth living again!" Here are some "preview" snippets from his delivery of the revolutionary story of Easter:
"I mean, just think about what happened that first Easter morning. Because of Jesus, one thief was in paradise. Because of Jesus, eternal death was gutted and emptied of its power for all who trust in Him."
"The Bible proclaims that all sin must be punished and that people must get right with God on His terms, for their very lives. But the Bible also incredibly proclaims that God Himself met those terms on behalf of every sinful person in this world. That's why there is a cross in God's victory for you; there are scars on this Savior for you; His resurrection means that new life is here for you in His Name!"
Sharing this message of eternal hope has been Seltz's passion throughout his ministry—whether in service in Dallas, Tampa Bay, New York, or Southern California. Assisting him throughout his career have been his wife of 25 years, Yvette, and his daughter, Devin Marie, 22. Until his official transition to Lutheran Hour Ministries in June, Seltz is director of the Cross-Cultural Ministry Center at Concordia University in Irvine, California.
"My love for Lutheran Hour Ministries really grew when they helped me as a pastor in the Tampa Bay area," Seltz shares in a postscript-style interview. "At Immanuel, Brandon we reached out to the families in the community using wonderful tools and wonderful programs provided by LHM."
On being one of the "select few" chosen to be behind The Lutheran Hour microphone, Seltz says, "It is a great honor. Those names, they do loom very large—Maier, Oldsen, Acker, Hoffmann, Schulz, Meyer, Klaus, Melendez… You know, I think that the ministry of Jesus Christ has always loomed large. And what amazes me is that He can do great things, even with people like us. So I'm very excited. I'm very honored to follow in their footsteps."
You can find out where The Lutheran Hour can be heard on the radio in your area HERE. There you can also access the program's sermon archive and schedule, listening tips, a history of the broadcast, stories, and how to hear the program as a podcast at www.lutheranhour.ca
LHM News Service