New report details the spread of Christianity worldwide
December 23, 2011
No Comment
by Mathew Block
A December 19 report from the Forum on Religion and Public Life (Pew Research Center) details the spread of Christianity as a global faith. While the percentage of Christians in Europe continues to decline, the number of adherents in Africa, the Asia-Pacific region, and the Americas is growing at a rapid pace. Approximately 2.18 billion people around the world are Christian (an increase of 300 per cent over the past century), or roughly 31.7 per cent of the entire world's population.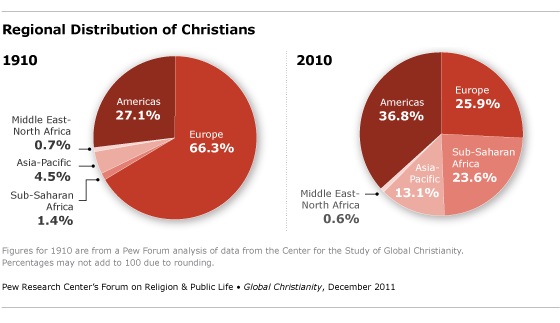 The study's authors suggest that Christianity can no longer be thought of as merely a "western" faith. Christians are "so far flung," they write, "that no single continent or region can indisputably claim to be the center of global Christianity."
The information is welcome news to Rev. Dr. Leonardo Neitzel. "God is accomplishing his work in this world," he said. "Christ is clear that the Gospel is for the people of 'all nations.' It's exciting to see just how much God has been opening hearts to Him around the world." Dr. Neitzel is the executive for missions and social ministry for Lutheran Church–Canada (LCC).
While the country with the largest Protestant population remains the United States of America (where nearly half the population is Protestant), Nigeria comes in second with 60 million adherents. China takes third place with an estimated 58 million Protestants. That more than doubles the number in Germany, where the Protestant Reformation first began.
That pattern aligns closely with the Lutheran experience, as churches inspired by Martin Luther's Reformation have spread throughout the world. A 2010 Lutheran World Federation report indicates that while Germany, the United States of America, and Sweden have the largest Lutheran populations, they are followed immediately by Indonesia, Tanzania, and Ethiopia. Likewise, the International Lutheran Council (of which LCC is a member) includes church bodies from across the Americas, Europe, Africa, Asia, and the Pacific Rim.
"Lutheranism does not belong to any one nation or culture," said Dr. Neitzel, who hails originally from Brazil. "It's about the Gospel of Jesus Christ. That's a gift that God offers to all the people of earth; and, thanks to the Holy Spirit's work, that's a gift people all over the world are embracing." LCC has welcomed and is currently training missionaries to reach out to ethnic communities throughout Canada. The success of this outreach is being seen not only at home but abroad as well, in the homelands of immigrants – "a great symbol," says Dr. Neitzel quoting Martin Luther, "that 'the Church comes from all nations.'"
Approximately half of the world's Christians are Catholic, 37 per cent are Protestant, and 12 per cent are Orthodox. Lutherans make up 9.7 per cent of all Protestants. Of distinct denominational families, only the Anglican tradition (10.6 per cent) has a higher numbers of adherents among Protestants.
The report is available online from the Pew Research Center.