On the road to Bethlehem
December 13, 2013
One Comment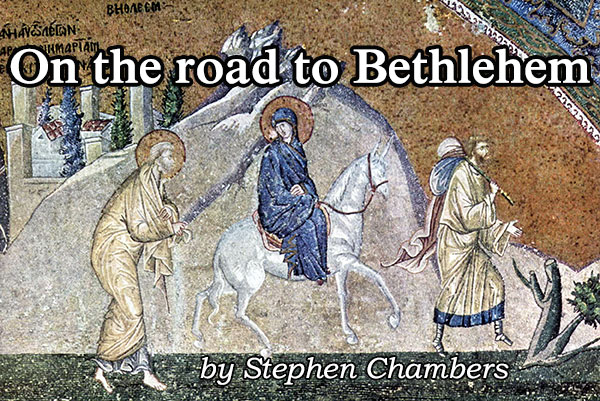 Note: Rev. Dr. Stephen Chambers is leading an archaeological expedition to Israel in 2014. To find out how you can take part, click here.
by Stephen Chambers
Think about a journey to Bethlehem at this time of year, and what springs to mind? Mary and Joseph! That answer is both obvious and good, because it was their journey that set the stage for our salvation. The child Mary bore at the end of their trip is the Christ, our Saviour.
But for that very reason, their journey to Bethlehem has sparked thousands—perhaps millions—of other journeys too. From the earliest days of Christian history until now, pilgrims have trekked to Bethlehem to see for themselves the place where Jesus was born.
Actually though, that's not quite right. Pilgrims don't go to see. They go to worship. An early fifth-century writer, Paulinus of Nola, talked about pilgrimage in this way: "The principal motive is the desire to see and touch the places where Christ was present in his body, and as a consequence to recite, 'We will worship at the place where his feet stood.'" The desire to worship is also what guided another early pilgrim, the Spanish noblewoman Egeria. Her biographer writes that, "guided by God she pressed on until after a time she reached what she had longed for, the most holy places of the birth, passion, and resurrection of the Lord. Her purpose was to pray and to find edification, for the more she had advanced in holy learning the more insatiably her holy longing burned in her heart."
Pilgrims don't go to see. They go to worship.
Why did people like Egeria go to Bethlehem in particular? Because it was the site of one of the three holy caves associated with Jesus' life and ministry. Beyond what the Gospels themselves tell us, tradition placed Jesus' birth in a cave, which makes sense because the soft limestone geology of the Bethlehem area led many families to carve underground chambers for themselves and their livestock to shelter in. The second sacred cave is on the Mount of Olives, where Jesus and his disciples often retreated from the bustle of Jerusalem. And the third, of course, is the cave-tomb of his burial and resurrection.
All three of these caves became major pilgrimage centres when they were graced with gorgeous churches by the emperor Constantine in the 330s. Fittingly, the church over the holy cave of Christ's birth in Bethlehem was the first of the three that Christian travellers visited if they came ashore at Gaza and headed north on the usual pilgrimage-route. To accommodate them, as well as pilgrims making the short ten-kilometer day-trip south from Jerusalem, Bethlehem boasted a range of hostels and inns where travellers could eat, rest, replenish supplies, and ready themselves for the intensely spiritual experiences they had come to immerse themselves in at Constantine's lovely Church of the Nativity.
Everything about this church pointed to Christ. Its overall shape was long and narrow, a classic basilica, except that the chancel section up at the front was octagonal. Why? Because such a shape draws attention to its centre, emphasizing the importance of what happened there, "for us and for our salvation." Centre-focused churches were unique to Palestine in this early time-period, and all of them honour places that were closely connected to Jesus and his earliest followers. This centre-focused church atop the cave in Bethlehem marking Jesus' birth is matched by another that sits atop the house at Capernaum that he lived in, and another atop the grave in Jerusalem that he rose from, and another overlooking the harbour in Caesarea Maritima where his witness Paul was kept as a prisoner before being sent to Rome. As a group, these churches had a special name: martyria-churches, meaning churches that bore special witness to Christ.
Even so, the eight sides of Constantine's Church of the Nativity did something else. The octagonal shape not only drew worshippers' attention to a particular spot where Christ was thought to have been born, but reminded them of the new creation that he offered and gave them. Just as God made the world in seven days, so he re-makes all things through the power of Christ's resurrection—which took place, of course, on Sunday, which in this way of thinking is not only the first day but also the eighth! So, you see, this eight-sided church—like the ancient eight-sided baptismal font it still features, if you know where to look—is a statement in stone. It bears witness by its very shape to the new life that sprang into being when Christ, our Saviour, was born.
Are all those pilgrims who come from all over the world to worship Christ at the Church of the Nativity, worshipping in the right place? Who knows? Twenty years before Constantine built this church, the meticulous historian Eusebius noted that "those who live on the spot, through the records they have received from their ancestors, give their testimony to those who go to Bethlehem to see the place, and guarantee their word by pointing out the field or the grotto where the expecting Virgin laid her babe." Obviously this doesn't prove that the places those people pointed out were actually correct. What it does mean, though, is that Christians who worship in the Church of the Nativity today can be sure that they are part of a very long procession of pilgrims who have, at least, commemorated Christ's birth in this exact spot since the early fourth century.
And the Church of the Nativity people visit today is still, in some places at least, Constantine's church. It's the oldest Christian church in the world that's still in use. A mosaic in its original flooring, which was excavated in the 1930s, reminded pilgrims that they had come to worship "Jesus Christ, Son of God, Saviour." In Greek that confession forms the acronym ichthys, which is also the word for fish—a shorthand symbol of our faith. Unfortunately neither this mosaic nor any of the other foundational bits of the original church are visible to visitors today. The reason is that the whole place was extensively rebuilt by another great Christian emperor, Justinian, after Samaritans pretty much destroyed it in a revolt in 529.
Over the following decade Justinian expanded and modified the Church. He lengthened the nave, added a narthex, and changed the shape of the chancel from Constantine's beautiful but cramped octagon to a broader and more open design. The result? Better traffic-flow! Where previously pilgrims had to enter and exit the holy cave beneath the church by a single set of stairs, now they could go down one set and up another. More worshippers than ever before could flow through the holy site every day.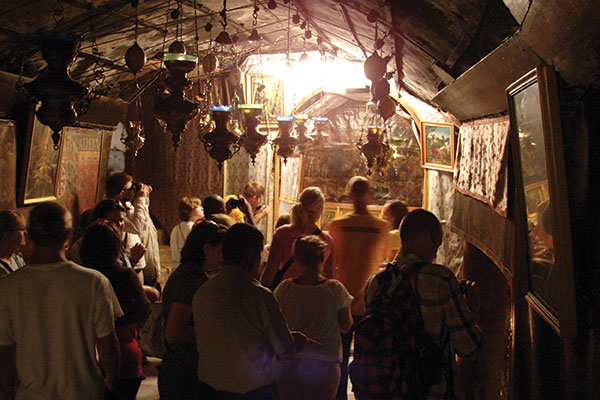 Today, of course, the Church of the Nativity attracts more worshippers than ever before. Clearly it has seen better days. Its roof leaks, most of its marble was looted centuries ago, its mosaics are so fragmented they can hardly be deciphered, and the originally vibrant colours of its frescoes are blackened by age and soot. Clergy from the four churches that share custody of the building jostle each other as masses overlap in a tangle of languages. Yet, despite these distractions, Christians from around the world bow in awe before the Father's astonishing gift of his Son, born of a virgin, born as one of us, born to bear our sin, born to give us new life. As Christians have been saying to each other since the very beginning, today's pilgrims too say, "Let us go over to Bethlehem and see this thing that has taken place, that the Lord has made known to us!" (Luke 2:15).
———————–
Rev. Dr. Stephen Chambers has taught at Concordia Lutheran Seminary in Edmonton since 2002. He is currently Academic Dean and Professor of Exegetical Theology. The summer of 2014 will mark the fifth time since 2006 he has led a group of archaeological volunteers to Israel.