One year after the quake, one-million Haitians still live in tents
January 12, 2011
No Comment
by Keven Drews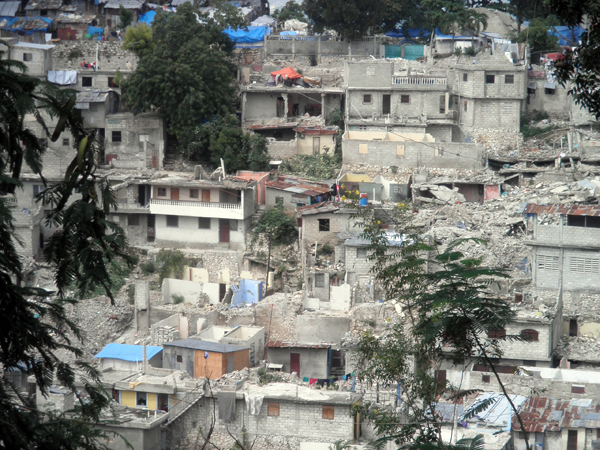 Haiti still faces a long road to recovery, one year to the day after an earthquake devastated this tiny Caribbean nation.
Reconstruction efforts may be taking place, but rubble still litters the country and more than one million people remain homeless and live in tents—despite billions of dollars raised by international aid agencies, including Canadian church groups.
In fact, aid agencies have suggested the Haitian government has removed only five per cent of the rubble caused by the quake, and the concrete and steel debris still left are enough to fill dump trucks that would encircle the globe.
"Generally speaking, not much has changed in Haiti one year after the earthquake, with still one-million survivors living in tents," said Dr. John Wilch, chairman of the Haiti Lutheran Mission Society. "The government's removal of earthquake rubble could take 10 years, just to make rebuilding possible."
By all accounts, January 12, 2010, was a typical Haitian day. The sun was shining and the temperature hovered between 25C and 30C.
Just before 5 p.m. local time everything changed when a massive 7.0 earthquake struck the impoverished nation.
"The ground shook, winds blew dust all around, and trees shook like dogs shaking off water," said Howard Bogusat, a member of the HLMS who was in the country with his brother Walter and Lynnette Tobin, a member of AIDS Niagara.
When the shaking was done, the casualty and death rates began rising. In fact, 250 members of the Lutheran Church Haiti (LCH) were homeless, and the church itself had lost 55 buildings, said Wilch.
Almost immediately, the international community, including Christian-aid agencies, responded, and the money began pouring in.
Nationally, the Canadian government has committed a $400-million reconstruction fund.
Canadian Lutheran World Relief (CLWR) went to work raising what would eventually reach $1.1 million, which it then spent on programs delivered by ACT Alliance, an international organization composed of more than 100 churches and church-related relief organizations, including the Lutheran World Federation (LWF).
CLWR also reported giving the HLMS funds to purchase tents. In fact, the HLMS and CLWR wired $15,000 and $30,000, respectively, to the LCH.
The HLMS also carried on its own work.
Wilch said the organization carried out a campaign to rebuild 20 churches. When the fundraising was done, the HLMS had raised more than $60,000, enough to rebuild 22 churches.
The organization also sent three, 40-foot-long shipping containers, packed with clothing, bedding, beds, lumber, tools, tires, generators, a compressor and even a small bulldozer over the coming year.
Wilch reported the HLMS raised $130,000 in 2010, which was more than it raised in any other year, and much of the money was designated for disaster relief.
"What our Christians agencies are doing is huge, but I see it as a drop of water in the ocean at the present," said Rev. Leonardo Neitzel who spent six days this past September visiting the country, specifically Port-au-Prince, Leogane and a farm area in the mountains. Dr. Neitzel is the executive responsible for Lutheran Church–Canada's mission and social ministry.
What Neitzel experienced on his trip can only be described as heartbreaking.
"I met a family which lost six children in the earthquake," said Neitzel.
"I have a picture with a person who is living in a tent and lost his wife and only child (nine years of age). He stared at the mountain of rubble and said 'my son is there somewhere, but I haven't been able to find him.'"
"He showed me the picture of his family and, in tears, pointed to his son he would like to find someday."
In another situation, Neitzel said he met a family of eight who were living in a box shelter.
"Some of them were there when we went to visit, and the mother invited us to 'please, come into my home.'"
Neitzel said he expects it will take at least five years for Haitians "to have a stable situation" in their lives.
"Much will depend on the country's political and social leadership action from now on. Unfortunately, there seems to be a lack of leadership" he said.
Wilch, meantime, said the country's recent election—which remains undecided—is just another example of the country's problems, "which probably cannot be resolved without reforms to eliminate political corruption and a compromised police and judicial system."
"Then, perhaps, headway could be made to build a proper infrastructure with social care, public education, hospitals, highways, etc."
Neitzel said it was a very sad and touching experience to see Haitians suffering and dying.
"On the other hand, it was uplifting to witness peoples' hope in trying to rebuild their lives from the rubble, or out of nothing or from what they have received."
"It was uplifting to see that regardless of what the local government has not been able to provide…the Christians and agencies with which we have been involved are doing remarkable work, with honesty, faithfulness and accountability.
"Lutherans who received the funds raised in Canada for the earthquake relief are very busy assisting others. As I said, one simply can't fully understand or imagine the depth of devastation from the earthquake, and much is yet to be done."