Pastor's Desk Diary 2013
November 8, 2012
No Comment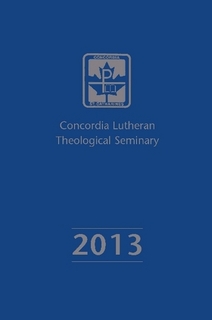 ST. CATHARINES, Ontario – Concordia Lutheran Theological Seminary is again pleased to offer to the church the annual pastor's desk diary. It contains readings from the three-year and one-year lectionaries, including variants for the major Lutheran churches in Canada: Lutheran Church–Canada, Evangelical Lutheran Church in Canada, and Wisconsin Evangelical Lutheran Synod. The original work of Thrivent Financial in the United States of America has been adapted to the Canadian calendar.
Although the seminary can no longer offer the diary for free, the cost has been kept to $19 (plus shipping and GST) through the support of advertising. The diary is available though lulu.ca, an online, print-on-demand service. Order the diary online by searching it on lulu.ca or by following this direct link: http://www.lulu.com/shop/concordia-lutheran-theological-seminary/lutheran-pastors-desk-diary-2013/paperback/product-20487037.html. The diary will be shipped directly to you.
Base shipping cost in Canada is $5.99, but there are quantity discounts available—a good incentive for pastors and church workers to order together.
——————–