Publication details what's happening in Lutheran Church–Canada
March 25, 2011
No Comment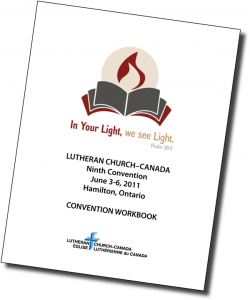 A document with the title Convention Workbook sounds ominous and perhaps even potentially boring, however the 2011 edition provides a snapshot of what is going on in Lutheran Church–Canada and all its related institutions and organizations.
Prior to each triennial convention LCC publishes a Convention Workbook which provides delegates with all the information they need to participate in the Synodical Convention. The 2011 workbook is 200-plus pages, which includes reports from all parts of synod; candidate profiles for those nominated for elections; suggested areas for resolutions (overtures) from congregations, circuits and various boards; along with copies of reports dealing with topics of interest to the entire church.
"If you want to find out what's going on in LCC and what's on peoples' minds about the church, the workbook is the place to look," explained Dr. Ian Adnams, convention manager. "It's one-stop-shopping for those interested in the life of the church."
Every congregation, pastor and delegate receives a copy of the workbook. Individuals are welcome to download a copy or specific sections from http://www.lutheranchurch.ca/synod2011.php?s=workbook.
Members of the convention's Resolutions Committees are responsible for reading the 39 reports and 42 overtures to gain an understanding of the concerns expressed. In mid-April they will gather in Winnipeg and discuss what they have read and write resolutions that capture the essence of the concerns. Sometimes more than one overture deals with the same issue, so the committees are responsible for compiling the sentiments into a single resolution.
Following the Resolutions Committees' meetings, LCC will publish a new section of the workbook containing the proposed convention resolutions grouped under the headings: Theology and Mission; Parish Services and Higher Education; Constitution and Administrative Matters; and Financial and Miscellaneous Issues. Any member of Lutheran Church–Canada (pastors, deacons, congregations) or lay delegate can send in comments about the reports or resolutions for consideration by the Resolutions Committees. Once the resolutions are drafted, further comment is welcomed including meeting face-to-face with the committees on June 3 in Hamilton prior to the convention.
Dr. Adnams believes LCC has a "very transparent, grassroots-driven process when it comes to conventions. If someone has something to say, there are numerous opportunities along the way."
Corrections or comments regarding the workbook, reports or overtures can be emailed to convention@lutheranchurch.ca.