Re-Forming Our Church: Restructuring Update December 2015
December 11, 2015
No Comment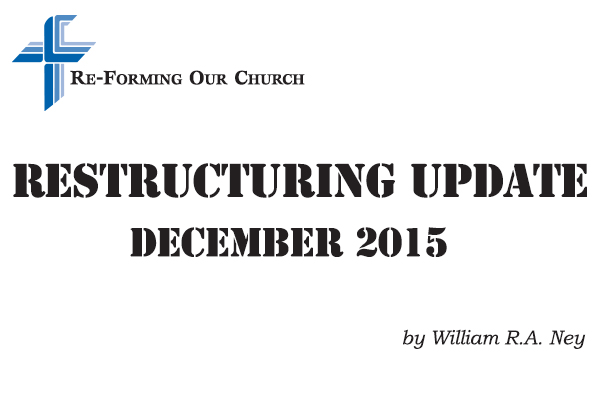 by William R.A. Ney
The Commission on Constitutional Matters and Structure (CCMS), having been given a strong mandate from the last Synodical Convention and all three District Conventions to put forward a plan to restructure Lutheran Church–Canada, has made a major move forward in that process by hiring a specialist in governance and structure: one of our own pastors, the Rev. Dr. Les Stahlke. Dr. Stahlke has had decades of experience in working with individual churches, businesses, and large church bodies in Canada and around the world in assisting them to put together a structure and governance model that will assist a church, a church body, or another organization to carry out its mandate in the most effective way possible under God's guidance and blessing.
Rev. Stahlke will be visiting immediately with many of the elected leaders in our Synod and Districts as he puts together a survey which will be vetted by the CCMS and then be made available to every pastor, deacon, and lay person in Canada who is part of our church body.
A concerted effort by the Commission on Constitutional Matters and Structure will be made to receive input, ideas, and concerns from every person in Lutheran Church–Canada through this survey, which will be provided to every LCC parish in Canada.  The CCMS has determined that this process, with the assistance and leadership of Rev. Stahlke, will be a truly "bottom up" and not "top down" effort.   The Commission is determined to listen to all people who take the time to respond from all parts of the country. From these responses, the CCMS will develop a new structure through which congregations, pastors, and deacons of LCC can work together for the sake of the Gospel in the most effective manner possible.
We are looking at taking the responses of our people, synthesizing them, identifying common themes, ideas and concerns and then—on the basis of our Lutheran Theology, which does not change—put forward a new Constitution and Bylaws for the 2017 Synodical Convention. This new structure, if adopted, will transform the way in which we govern ourselves and work together locally, nationally, and internationally in order to carry out Christ's Great Commission (Matthew 28:19-20).  Our goal is to come up with an organizational plan that will enable us to maximize the blessings of Word and Sacrament, and the physical blessings God provides in order for us to reach the whole world, beginning at home, with the message of His salvation for mankind through Jesus Christ alone.
It is my strong belief that it was God—responding to much heart-felt prayer—who led our conventions to mandate this action at this time, given the present instability in the world, the "wars and rumours of wars" which St. John predicted in Revelation, and the world's attacks on Christians and Christianity.  More than ever we need to utilize all of God's blessings to us individually and to Lutheran Church–Canada corporately in order to carry out the mandate given us by Christ to be His witnesses in our fallen world (Acts 1:8).
It is my strong belief that it was God—responding to much heart-felt prayer—who led our conventions to mandate this action at this time.
Please pray for the Commission, Rev. Stahlke, our elected and appointed leaders, and for our church body that God would grant His blessings of strong faith, wisdom and love to all who lead in this massive undertaking.
We boldly dare to ask for your prayers because we recognize that it is only by God's grace and blessing that this undertaking will succeed and result in great blessings in and through our beloved Lutheran Church-Canada.
———————
Rev. William R.A. Ney is Chairman of Lutheran Church–Canada's Commision on Constitutional Matters and Structure.