Recount the deeds of the Lord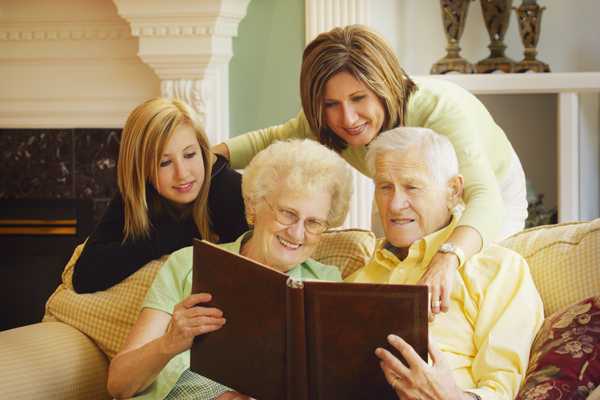 by Peggy Pedersen
"Go home to your family and tell them how much the Lord has done for you, and how he has had mercy on you" (Mark 5:19).
There has been a lot of attention paid recently to journaling, recording family history, and scrapbooking of memories. But I want to suggest that there is something far more important than these memoirs to pass on to your children and grandchildren. I want to suggest that the most important thing you can do for your children is to recount to them the deeds of the Lord in your life—His care for you, His faithfulness, His deliverance, the times when you were in distress and He comforted you, strengthened you, and showed Himself to be your rock, refuge, and deliverer.
How easily these things are forgotten once a crisis has passed. If we don't take the time to tell our children, they will never know of them—especially if these events happen when they are young or before they are born. But hearing these things will build them up in their faith and make them aware of the very personal care God has taken of their own family through the years and generations. These are true treasures you can leave them.
How many of us tell and retell these events to our children and grandchildren?
God directed Israel not to forget what He had done for them, but to remember them in yearly observances like Passover and the Feast of Booths. Likewise, Jesus directs us to remember Him whenever we gather to receive Him in the Eucharist. Each of these observances focus on recounting God's merciful deliverance.
But we have all experienced His mercy in our own lives as well. How many of us tell and retell these events to our children and grandchildren? As we teach our children God's Word and bring them up in the faith, we should also inform them of our own joy and praise for what He has done for us, in giving us faith and salvation, and in His daily care for us.
In Isaiah, we are counselled to teach our children the praise of God: "The living, the living—they praise you, as I am doing today; fathers tell their children about your faithfulness" (Isaiah 38:19).
When I was three, I was saved from injury and death in a horrible head-on crash with a tractor-trailer, receiving only a tiny scratch on my forehead. My father was so severely injured they wanted to amputate his leg, but—by God's grace—it was saved. This story was recounted to me while I was a child, but although my parents were Christian it was not recounted as a story of God's mercy and grace. My father was also in a unit in World War I that shipped out immediately after his discharge. His entire unit was killed in the first battle. Because he was spared, I live.
Our hearts should spill over with gratitude
But the grace of God is not to be found in events of physical salvation alone. Some of the greatest mercies are found in times of grief, suffering, or tragedy when only God's sustaining love can bring consolation and healing. It is found in the patience and forgiveness He offers when we stray. I glorify Him for His unmerited mercy in bringing me back to faith and forgiving my years spent denying Him and serving false gods. He saved me for His name's sake; may His name be praised for it. It's a story I recount to my family even though they do not now appreciate it.
Our hearts should spill over with gratitude—even more than do proud parents who cannot help but tell everyone of their child's wondrous activities—and we ought to be unable to restrain our lips from praising Jesus and telling of His wonderful deeds to our children. We should talk of them when we are sitting in our houses, when we are walking by the way, when we lie down, and when we rise. (Deuteronomy 11:18-19).
Our children need to know that in all things we trust God's goodness and love. When the Lord gives and when the Lord takes away, they need to see us bless His name and trust Him. In this way, they will grow up to know the Lord as a living presence among us, a God who is near and not far off, who is our refuge and strength, an ever present help in trouble (Psalm 46:1).
The Psalm writer puts it well: "Oh give thanks to the LORD; call upon His name; make known His deeds among the peoples! Sing to Him, sing praises to Him; tell of all His wondrous works!" (Psalm 105: 1-2).
Peggy Pedersen is a writer in Victoria, B.C. where she is a member of Redeemer Lutheran Church.